Supplier Diversity Manager Reshaping the Supply Chain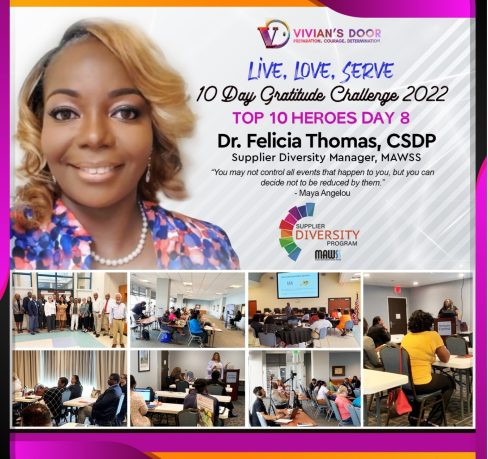 Today, we lift our hands and heart to celebrate the phenomenal Dr. Felicia Thomas, a native of Mobile, AL. She is the Supplier Diversity Manager at Mobile Area Water and Sewer System (MAWSS), a utility company in Mobile, AL. She's been an immense supporter of Vivian's Door, and we salute her for her contributions today!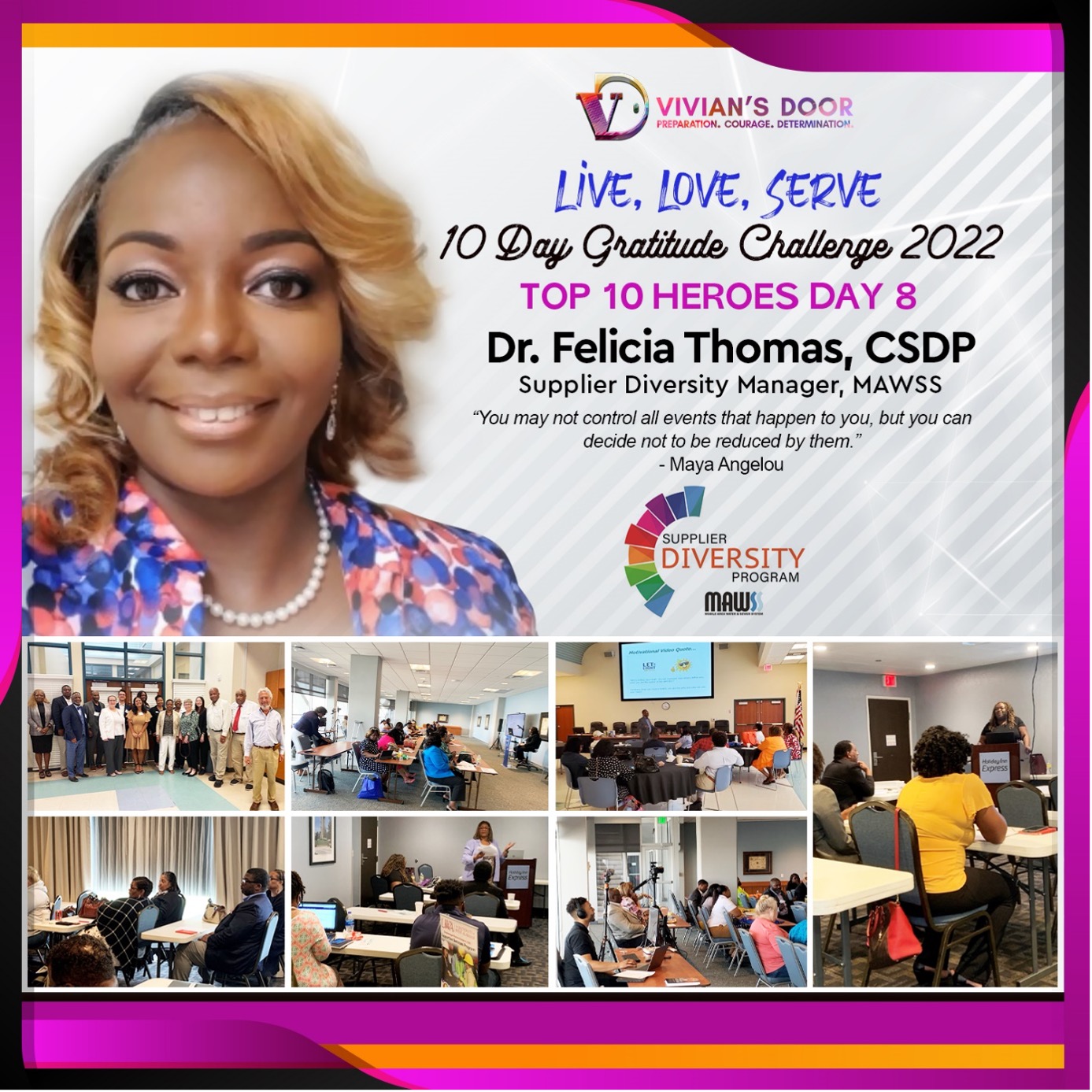 Dr. Felicia says, "I got into the supplier diversity profession because I saw how diverse small businesses struggled due to the lack of knowledge." She wanted so much to do something about this. "…It led me to seek opportunities to help those small businesses, and what better way than serving as an advocate through supplier diversity."
She recalls her grandfather and notes fondly, "He was the biggest single mentor in my life – definitely my grandfather. Even after death, he was and still is the biggest influencer in my daily life." She recalls warmly, "he helped mold and shape me into the person I am today. He was very caring, looked out for others, and ensured those close to him had what they needed to succeed. I carry those same traits in life and business today." Dr. Thomas further remarks, "currently in business, I have two mentors, one with the DOJ and the other with the State. They help me look at things from many different perspectives and give me that extra nudge when I think brick walls are in place."
What's not to love about Vivian's Door? She replies, "I see their mission and vision, and they are doing great things in the community. Helping others, especially our small business community, is my passion and I see that same passion from work done through Vivian's Door."
For Dr. Thomas, Vivian's Door's mission and vision mean "that no matter what obstacles are laid before us, you are still willing to fight for the diverse small businesses in the community. You're not afraid to speak up or lead the charge for what is right and just for the small, underutilized businesses within the community where we live and serve." It is a chance to make your voice heard and impact seen, to give those less fortunate the opportunity to get ahead by supporting their business with all available information and resources.
Going uphill is never an easy task – that's what it feels like doing what the team at Vivian's Door is doing. "I can only say, continue on your mission. Never lose sight of the vision. As long as you continue to push and stay relevant, it will be hard to ignore the works of Vivian's Door."
We celebrate Dr. Felicia Thomas today!
For more details on Dr. Felicia Thomas and the MAWSS Supplier Diversity program, read "Reshaping the Supply Chain and Creating More Seats at the Table."