The AARP Inspire Award: Vote for small businesses by voting Janice Malone!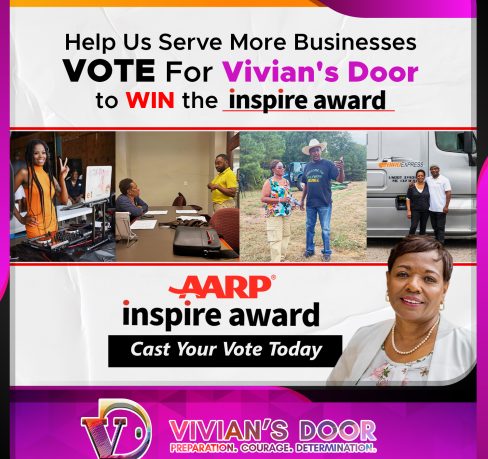 Exciting news! Janice Malone, our very own CEO and founder of Vivian's Door, an economic justice Mobile-AL based nonprofit, has been named one of five prestigious 2023-2024 AARP Purpose Prize winners. Malone is the first AARP Purpose Prize winner in Alabama. But there's more! Voting is now open for the AARP Inspire Award, and the five recipients of the AARP Purpose Prize are vying for an additional $10,000 and you get to vote for the one that inspires you the most. If Janice wins, she has graciously decided to give out four $2,500 mini grants to business owners in the community who are trying to grow their businesses and need just that little bump to get them to the next level. And you get to choose a business to receive a mini grant when you vote for Janice to win the AARP Inspire Award.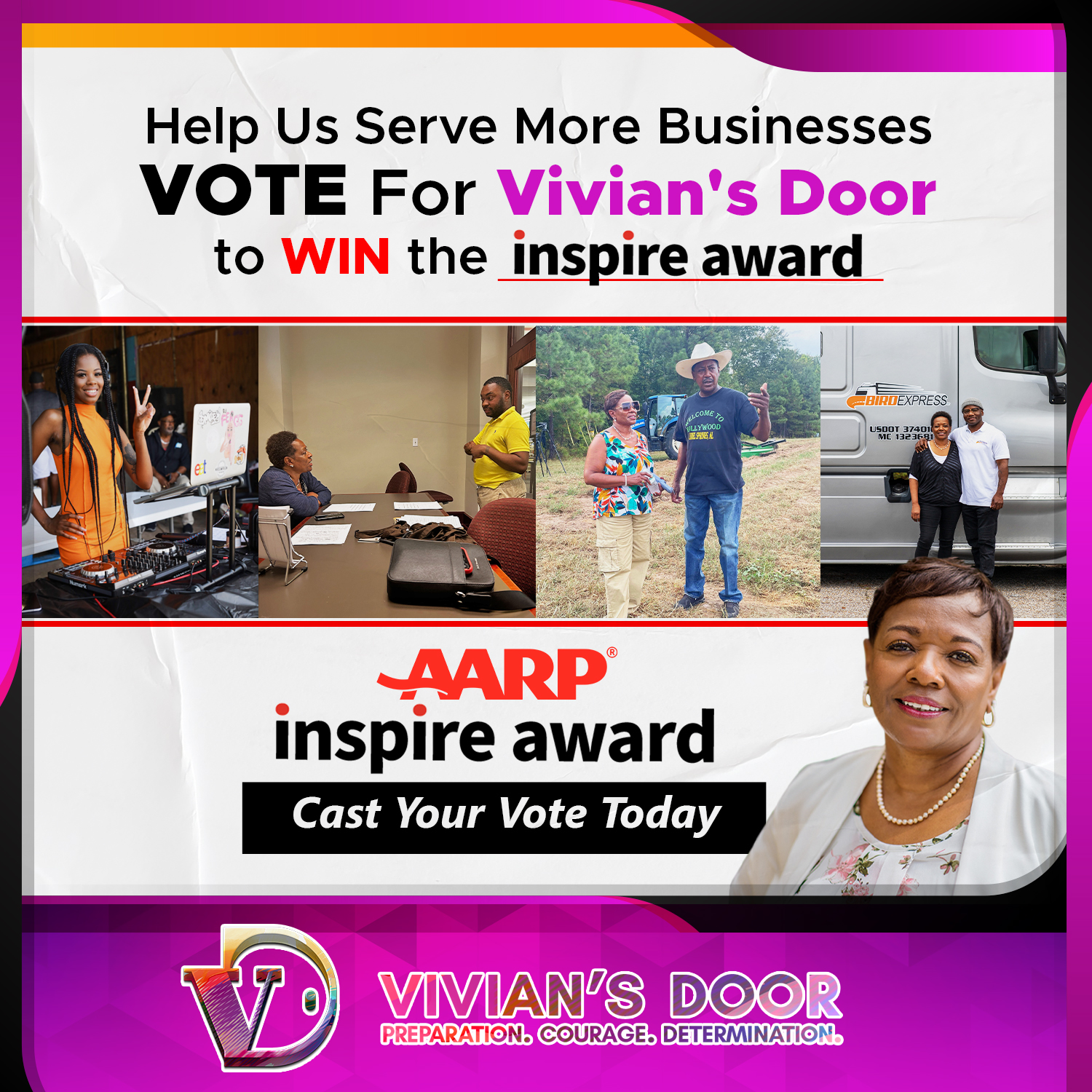 The voting for the Inspire Award is open until October 18, 2023, and we want it to be easy for you to cast your vote.
In this simple guide, we'll walk you through the steps to cast your vote and support this incredible cause. Remember a vote for Janice is a vote for small businesses to receive much needed funding.
Step 1: Visit aarp.org/InspireAward
To get started, open your web browser, and go to aarp.org/InspireAward. You can do this on your computer, tablet, or smartphone – whatever works best for you.
Step 2: The 5 Finalists
Once you're on the AARP Inspire Award page, you'll find information about the five Purpose Prize winners, including Janice Malone. Take a moment to read about her remarkable work and the impact that Vivian's Door is having in Alabama.
Step 3: Click on 'Vote Now'
Scroll down the page until you see a button that says 'Vote Now' next to Janice Malone's profile. Click on it to begin the voting process.
Step 4: Sign in or Create an Account
You might be asked to sign into your AARP account or create one if you don't have an account already. Don't worry; it's a quick and straightforward process.
Step 5: Cast Your Vote
After signing in, you'll be directed to the voting page. Select Janice Malone as your choice for the AARP Inspire Award recipient. You can typically cast one vote per email address or account.
Step 6: Share the News
Spread the word! Encourage your friends, family, and social media followers to vote for Janice Malone as well. The more votes, the better her chances of winning the AARP Inspire Award.
Step 7: Support a Small Black Business Today.
Please note if Janice wins, she will give out 4 mini-grants to small businesses you nominate. After voting for Janice aarp.org/InspireAward please remember to take a screenshot and nominate your business or a business of your choice to receive a mini grant HERE or email janicewinsinspireaward@viviansdoor.com.  The AARP Inspire Award recipient will be announced during an in-person celebration in Washington, D.C., on October 25, 2023. Mark your calendar and stay tuned for the exciting news!
Conclusion
By following these simple steps, you can help Janice Malone win this award and provide mini grants to four small businesses in our community.
"Change will not come if we wait for some other person or some other time. We are the ones we've been waiting for…" our community needs you to act now. By voting for Janice Malone and supporting Vivian's Door, you're not just voting for a person; you're voting for the hope and change that our community so desperately needs. Together, we can inspire a brighter tomorrow."
Together, we can empower change, one vote at a time."
Your vote counts, so let's make a difference! Visit aarp.org/InspireAward today and be a part of this inspiring journey.