Meet Sabrina Howard Making Bold Waves One Paint Stroke At A Time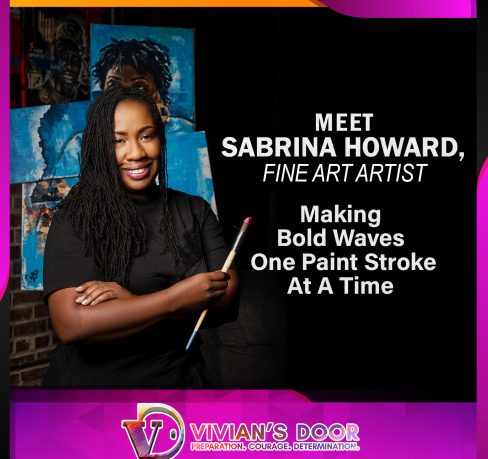 Sabrina Howard is the CEO/founder of Breative LLC, a fine artist and creative; she lives and breathes Visual art/fine art.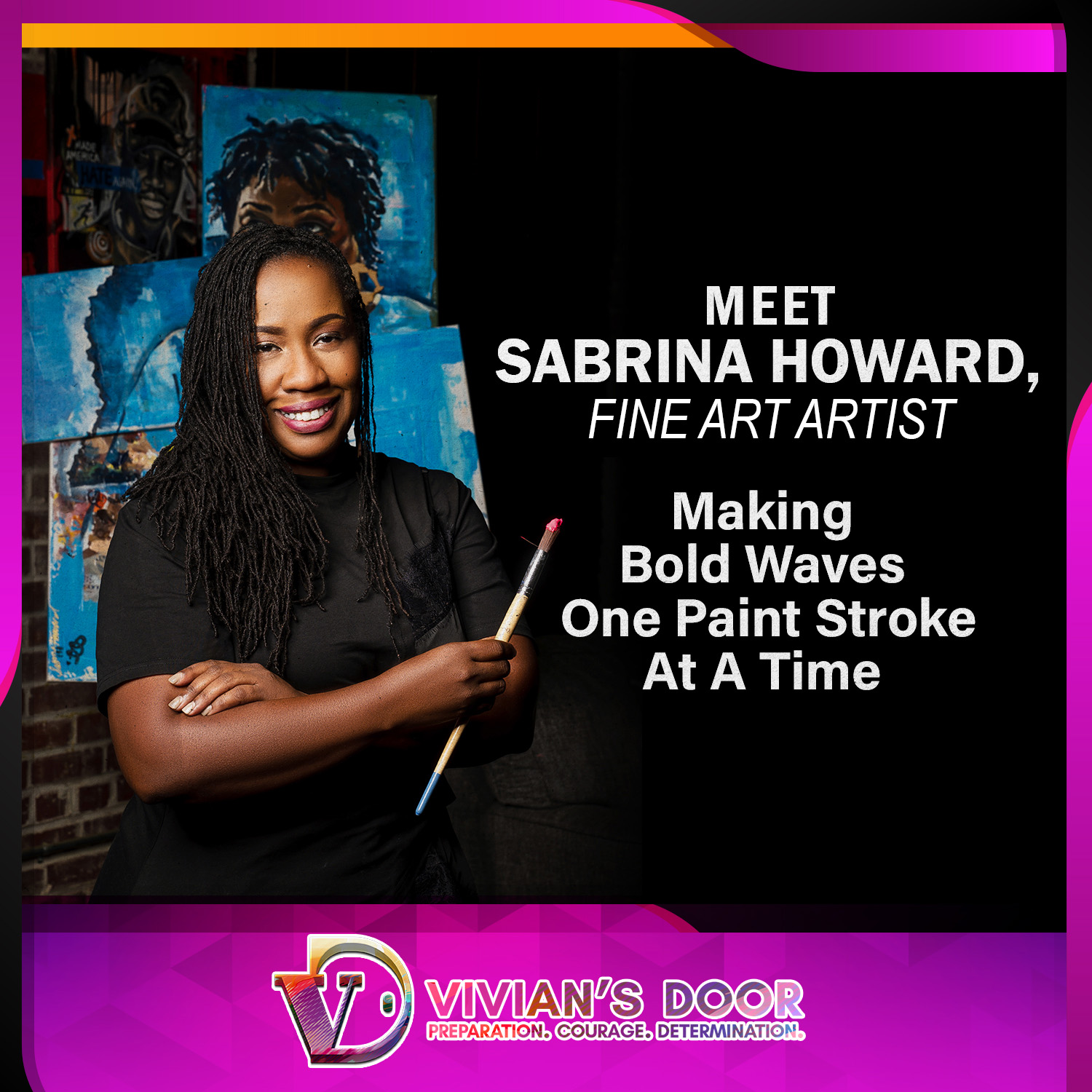 How it all started
Ever since she was little, she recalls: "I've always loved visual arts and wanted to be an artist; very early on, I decided it would be my career choice. So, after high school, I decided to attend art school." She graduated from Atlanta College of Art with a Bachelor of Fine Arts in Communication Design & Illustration. 
As someone with an unyielding passion for creating visual art, I always knew this was the way to go. So, about a year ago, I turned my love for fine art into my full-time career – that's how it all started."
The Jackson native dabbled in the fine art industry after she started creating pieces based on commissions. As something she'd always wanted to do, "being my desire and passion, I was glad to find out it could also be a way to care for my family and me. Hey, it was a plus."
Being a successful artist 
Ms. Howard considers her success to being due to several things, but above all, her faith and trust in God. Secondly, she says, "believing in myself as a creative was paramount. I've always created without being influenced by others. I've been original in my thoughts and ideas, which, surprisingly, is content that attracts people. It has worked for me in my career." 
My favorite quote
Sabrina has a couple of favorite quotes – but her favorite one is by Nina Simone; 'How can you be an artist and not reflect the time? It is my favorite "because as I have grown as a creative, Nina Simone's quote connects with me as an artist."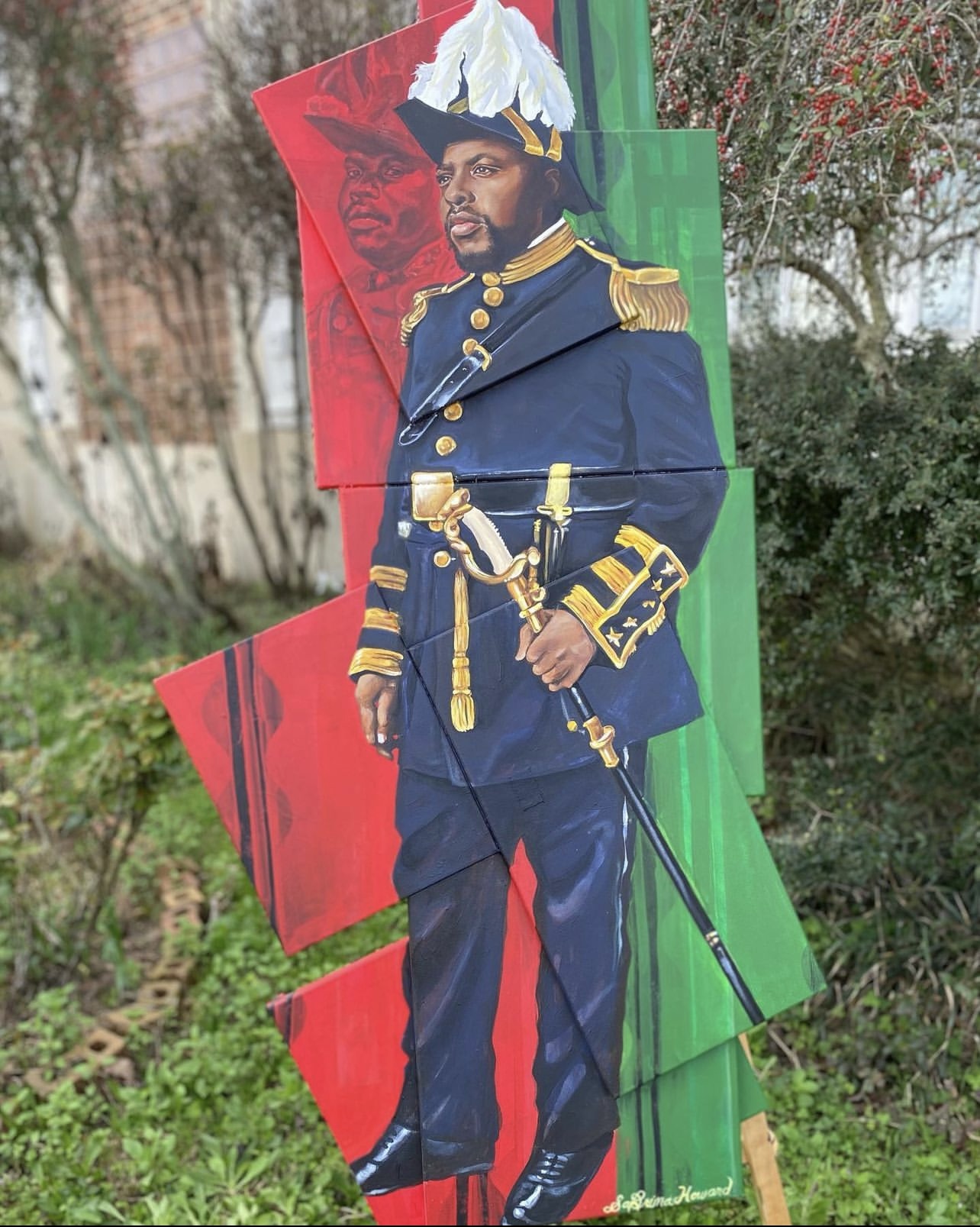 Having strong Black-owned businesses in the community
Education is power; Ms. Howard says – "the black community, as far as what's available to them and what they could achieve by operating a Black-owned business, it would help build a stronger community if we had access to better information."
She feels that Black-owned businesses need to learn much more. "I know, over the last year or so, I've learned so much just from Vivian's Door, volunteering and sharing helpful information to help me grow my business. 
"Better education on the business end and meeting other people who successfully operate Black businesses helps to strengthen the community. As far as those businesses are concerned, Vivian's Door is providing these so well," – she said.
Curveballs and challenges in life and business 
Sabrina says, "I wouldn't say that I've had an effortless life as a Black woman …responsibilities are high when growing up. Having a good support structure – in my household, if something happened, if someone was sick or unavailable, you know, as a household unit, we each had things to do, chores were divided up and spread out across the household, especially among the girls."
Another thing she notes when facing curveballs in business is, "I try to plan properly ahead as best as I can. Also, in business, you've got to know the product you're offering and your audience. Next, be prepared to pivot – 'this has helped me.'  
So, I've learned in business that having more than one service is always good. Or find new ways to reinvent yourself so you won't encounter those situations. Lastly, as I said earlier, I handle curveballs by staying original – trying not to be distracted by what the media says is good or what social media says is good…staying true to me."
Learning to draw again
A couple of years ago, Ms. Howard had spine surgery; it was a challenging time for her, she recalls with sadness; she ended up homeless for a short period but bounced back, saying, "it was a necessary reset." A disc was pressing against her spinal cord, which caused her hands to shake uncontrollably. She couldn't walk in a straight line; with some neck pain, holding an object like a pencil or paintbrush with her thumb was impossible. If she didn't have the surgery immediately, she was looking at paralysis.
She notes that; "although I didn't know how bad it would get after the diagnosis. I was still creating art, and one night I couldn't put my brush to the canvas, and my hand would shake so uncontrollably. I was so frustrated I was still trying to move around in excruciating pain. And everything became even more difficult. I couldn't open the car door. I couldn't put any pressure on my hand, but after the procedure, I had a couple of weeks where I couldn't walk and was not sure I would walk again. It took time to rebuild my strength and regain everything to walk again. 
Over time she eventually regained and re-strengthened the use of her arms, hands, and fingers. After the surgery, she initially couldn't paint for long times; "I could only paint for 10 or 15 minutes at a time. And then I would have to rest. I remember conversing with the neurosurgeon, saying painting is relaxing; I need to be able to paint. After a while, I was released, removed my neck brace, and returned to what I loved doing. 
One lesson she draws from this experience; is the need to be thankful. "At some point, when things like this happen, it grabs your attention and forces you to focus." She's grateful for her life and ability to produce art again.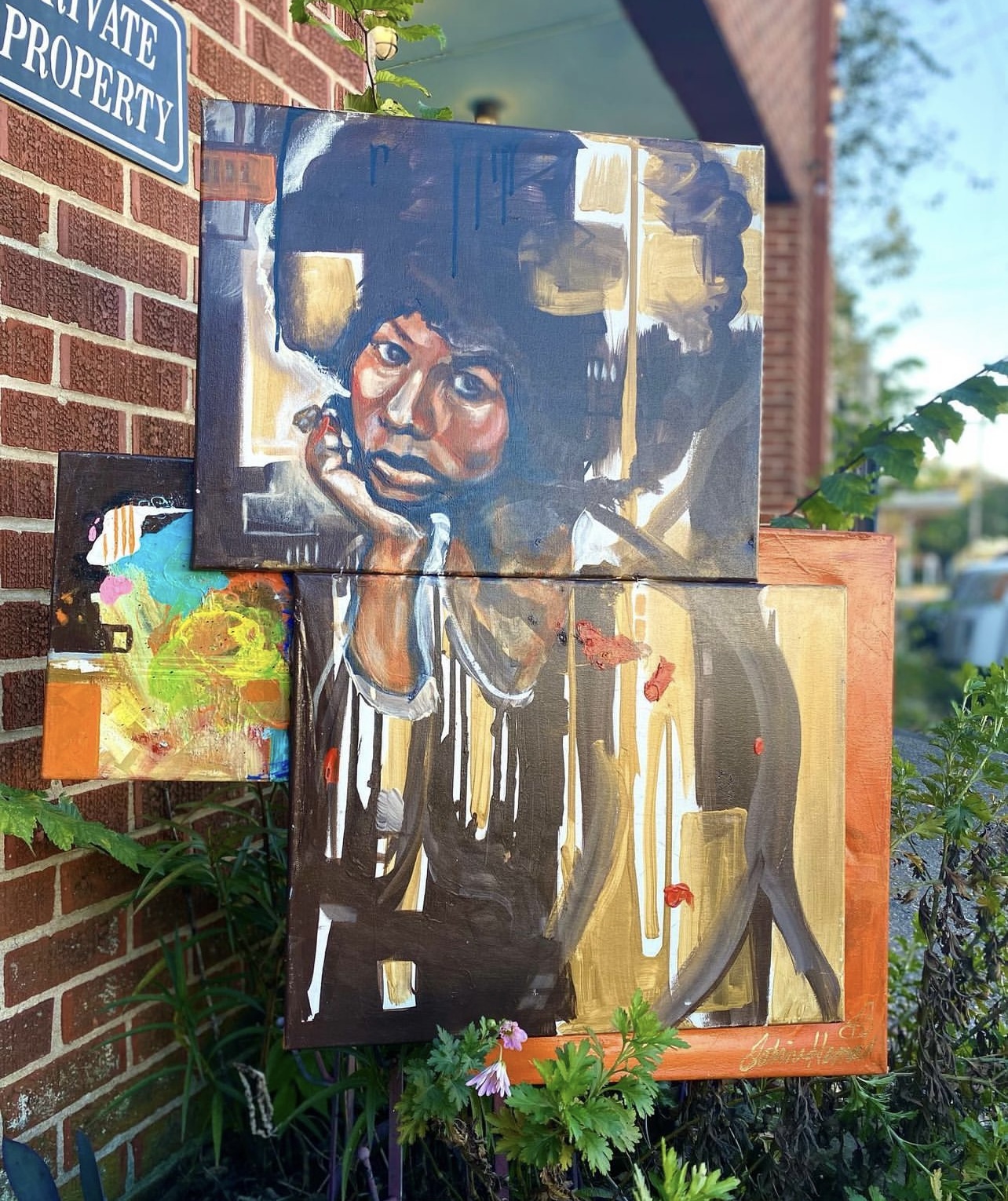 Most challenging part of the journey as a "Woman of Color" 
As a woman of color, Ms. Howard says, "there are a lot of facets of my life. And my family is important to me. I am a mother, and my kids have priority over many things. I have learned to balance my schedule to make it work. 
Another thing Sabrina says "is the need to keep your mental health strong: I often feel overlooked because I am a woman. But I keep pushing and find the strength and motivation to prove others wrong through my artwork. "I keep myself focused, prayed up, and busy. I have a to-do list that I check off every day – things that have to happen every day, and I keep to it. I try to continue moving forward without allowing that stuff to weigh me down…"
Creating memorable art paintings 
Sabrina recollects several memorable pieces with a smile, "As a fine artist – I have a piece titled System Repair. I started it live but ended up doing more work in my studio. But I created one other live piece during the Prison Reform rally here in downtown Jackson – I knew I would be creating the art live at that event. So, I did a custom building of my canvas like I usually do. For this particular piece, I left three pieces of wood representing bars in prison. There is an inmate behind bars, and he has duct tape over his mouth, and it reads live on his mouth. Also superimposed on the bars is the old Mississippi State flag. Also, the surrounding shows the history of one of the prison facilities."
Now another core piece she says sadly – "although depressing for me but not a lot of people know because I haven't talked about this piece. This piece sitting here now, the image of the person I painted is my son, who is unfortunately locked up."
She feels upset that young, incarcerated people are in the standard prison population with more hardened criminals who've done far worse things. The living conditions are terrible. They could die at any moment. She feels the jailing system here at Jackson State is awful. She has got people, especially parents speaking out "…it was so touching, some parents who had lost loved ones while locked up, and in such terrible conditions. So that's another memorable piece I created while he was there, and it came back to the studio." She's also exhibited these memorable paintings in two galleries.
Her favorite piece is a mural; "I included my children within this mural, but even before that mural, I did a concept painting of them that I sketched out and wanted to paint." She notes the mural at Jackson State is titled 'Sowing the Seeds of Love.'
She remarks; profoundly, "I like to say, 'if we can't change the world by ourselves, surely we can change the world through our children by teaching and showing them the things that they need to know – and letting them cultivate their generational growth."
Becoming an artist as a young person of color 
For a young person of color wishing to become an artist, she says, "every idea you have or create is important. Never let anyone tell you it isn't. Stay original, and always create. And whatever it is you feel you can do. You can do it. If you're serious about being a fine artist and love what you do, go for it."
Sabrina says, "When starting, consider how you will account for your budget and revenue. Always have a budget and a plan – I can create anything I want to when I want to. But can you make a living and a career of it? It's important to plan properly and have a budget."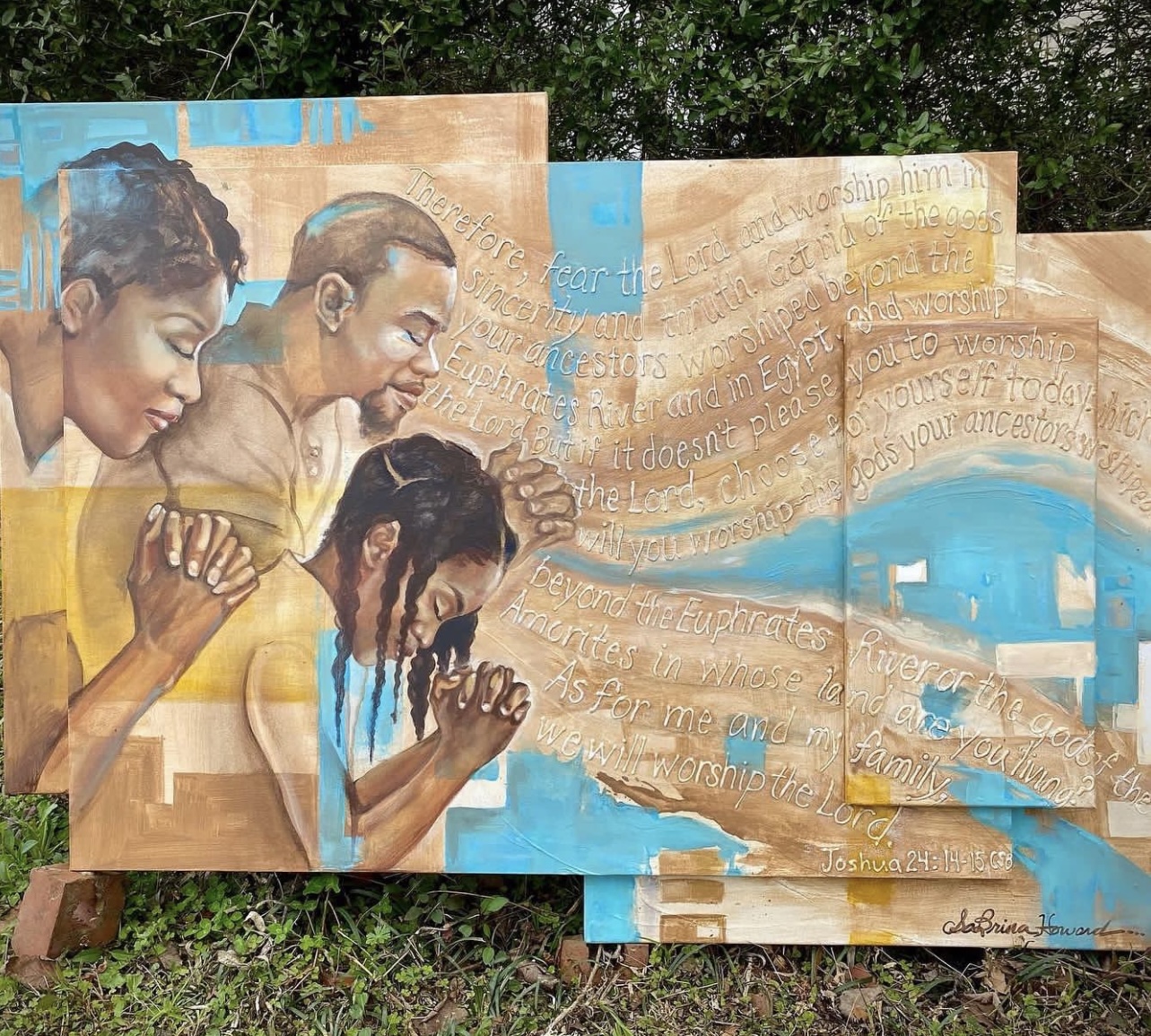 Saving the world through the arts
She notes that art is an essential tool to create. Recently, she had the opportunity to speak with some students at the Mississippi School of the Arts; "I spoke with them individually about the body of work that they were displaying, and my advice to each one of them was always to create. Don't wait on that competition if you have an idea – create – work on it. Always have something on your easel. Always have work on your art table or in your sketchbook – be working on something. People need to see or experience your ideas because the things you create could ultimately save the world and make you a millionaire".
Jackson State University commissioned Sabrina to do a mural. "The mural, based on pioneers from the community and people who worked during the voter's right drive," is now on the side of the Kofo building; earth tone colors, like a terra cotta type of color brick, looking reddish brown…but its 55 portraits of pioneers in the community." 
The Office of Community Engagement also commissioned her at Jackson State University – which works hand in hand with the community surrounding the school, as they're helping to rebuild that area – the West Jackson areas surrounding Jackson State University. She recalls excitedly, "The community decided who to feature on the wall. Many of the people were business owners. One lady featured was Louise Marshall, who owned the 1st black bookstore – in downtown Jackson. I had a chance to meet her – her son would bring her down while I was painting the mural, and she was so excited. She told me she liked it a lot."
"It made me feel good that someone could look at it and say, hey, that looks like me, and she was pretty excited to see the mural. It was fantastic to meet her. She saw herself represented through my art. From the art, people could learn about her story and how she overcame obstacles and paved the way for others. 
Connect with Sabrina HERE  https://www.sabrinahoward.com/