Power Duos Mother's Day Candace & Amberly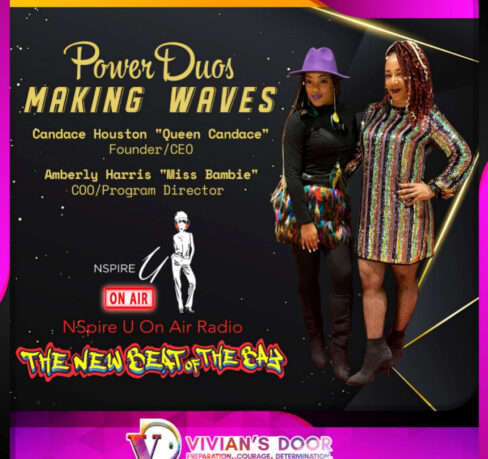 Here at Vivian's Door, we're celebrating moms all month long!
Today we're featuring a dynamic mother and daughter duo making waves in their industry Candace Houston and Amberly Harris. This mother and daughter team has been in business together for a couple of years. Come along with us and meet them.
Meet Candace Houston "Queen Candace." She is the Founder/CEO of Nspire U! With 30+ years in the entertainment industry, she launched the Nspire U! platform in 2019. The umbrella includes Nspire U Online Magazine, the Nspire U Network, and Nspire U On Air.
Meet Amberly Harris "Miss Bambie": She is the Down South Diva, "Bambie" Harris aka "Da Bambz." She has been around the media industry for 28 years and has been in the radio industry for 19 years. She is the Program and Promotions Director for NSpire U On Air and the COO and Creative Director of NSpire U!
Candace started the business in 2009 with a desire to plan and manage events for clients and create marketing plans to help their businesses grow. The business initially didn't start as an entertainment company, but as time went on, it evolved.
Coupled with her knowledge in entertainment and her love to inspire and help small businesses grow, the duo finds it easy working together. They say, "because we both have a solid background in the industry and experience, we can bounce ideas off of each other, take each other's advice, and where one of us isn't strong, the other is. This balance gives the business strength."
Despite the challenges, they have been motivated to continue, driven by the desire to see "Nspire U!" impact and inspire others. "Having both faced much adversity, disappointment, discrimination, and toxicity working for other companies, we have also seen firsthand that some companies don't care about the community, nor their customers. It's all about how much revenue they can generate, and that's it. We truly have a love for and desire to connect with and be a part of the community. Our culture is our priority, and anything we can do to educate and promote our people is what we want to do."
Their advice to other people (mother and daughter) who'd like to go into business together is to keep business and personal separate. "Have mutual respect at all times and keep in mind that just because you are the mom does not mean you are the expert in everything. Also, just because you are the daughter and see things from a different perspective doesn't mean you are the expert at everything. Be willing to listen with an open mind and remember that you are partners in building an empire together. Allow each other to agree to disagree, find a happy medium and keep it moving!"
Want to connect with Candace and Amberly?
Be sure to download their internet radio app at Nspire U in Google and Itunes stores.
Here's the link to tune into their awesome internet radio station:   https://www.nspireu.org/radio
Be sure to follow them on Facebook and Instagram at Nspire U.
Be sure to follow Vivian's Door for more inspiring stories !!!