Meet the Koens: A Power Couple Shaping Their Community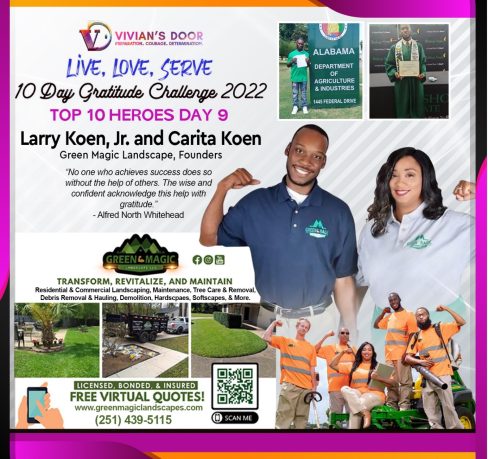 Today, we applaud Larry Koen, Jr., CEO, and Carita Koen, COO of Green Magic Landscape. Carita and her husband, Larry, founded the company in April 2016. Together, this amazing power couple has built a successful lawn maintenance and landscape business with many awards to their name while raising four wonderful kids. They've been pillars, cheering and supporting our work at Vivian's Door, and we acknowledge their efforts today.
From a very early age, Mrs. Koen felt drawn to business. This affinity drew her to study for and receive a Bachelor of Science in Business Administration /Communications from the University of Mobile in Mobile, AL. She then started her career as an Insurance Sales Producer before supporting her husband's dream to start their own business, Green Magic Landscape.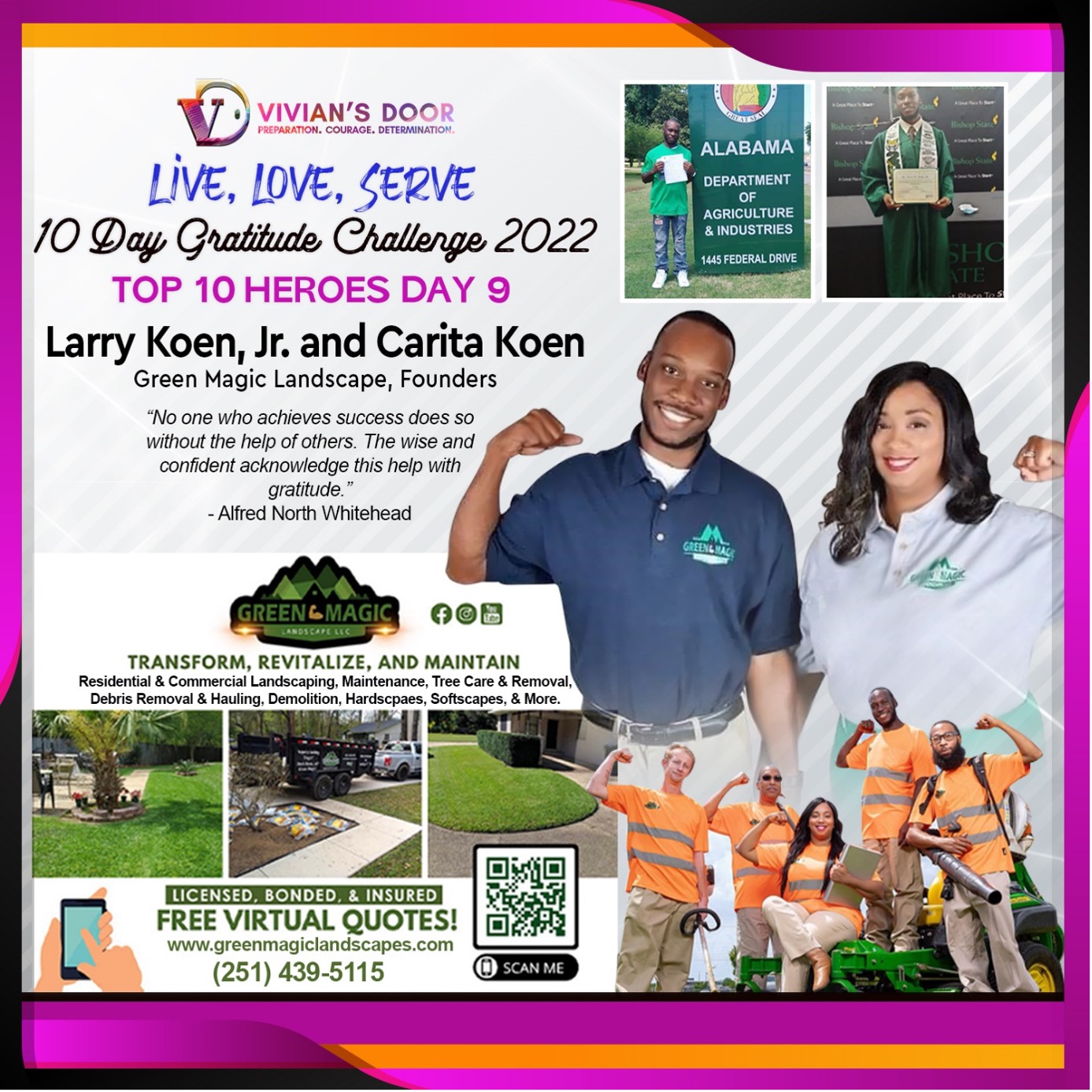 While Green Magic Landscape officially commenced in 2016, Mr. Larry Koen, Jr. had gotten a head start in the green industry at the tender age of 8. He received his early teaching from his grandfather. And whenever he tells the story, he does so with so much gratitude that his grandfather gave him a skillset that he could later turn into a successful business and support his family. His company's mission is to; "transform, revitalize, and maintain residential, commercial, and industrial spaces along the Gulf Coast." They specialize in area beautification and curb appeal enhancement to preserve and increase property values in the communities with the utmost respect for the environment.
Their company has achieved many awards, licenses, and certifications and completed many mentorship programs. Some recent awards the company received include the 2022 Litter Free Leader Award from the City of Mobile and the Mobile Area Chamber of Commerce (MACAC), the 2021 Eagle Award from the MACAC, and the 2019 Small Business of the Month Award from the MACAC, to mention a few. Mrs. Koen was also selected and debuted in the Mobile Bay Magazine 2020 Class of 40 under 40, a prestigious recognition. She is a sought-after speaker, booked and featured in many entrepreneurship conferences, events, articles, podcasts, and webinars with companies such as the 2022 Lawn & Landscape Technology Conference with Lawn & Landscape Magazine, and so many more.
Mrs. Koen notes, "Nathaniel Patterson, Jr. has been a business and life mentor to me. He provides us with not only mentorship and lessons in business but also life lessons in work-life balance." She also observes that "being in business with your spouses is not always easy, but it is indeed rewarding." Gia Wiggins has also been a very dear friend and mentor; "her drive, determination, heart to help, and intellect always inspires us to think beyond what we can see and reach for the stars."
Carita actively supports Vivian's Door because the organization provides resources to strengthen minority business enterprises while closing the wealth gap and breaking financial bondages in underserved communities. This cause is very dear to her heart. "I'm extremely passionate about the growth of minority businesses, and I seek out ways to improve diversity, equity, and inclusion initiatives and use the resources within the entrepreneurial ecosystem to ensure the company's continuous growth, sustainability, profitability, and opportunities to compete in the marketplace effectively."
The Vivian's Door's mission and vision for Mrs. Koen mean that; "the increase of generational wealth will continually emerge, and their resources will allow businesses to not just survive but to thrive enough to give back and pour into our community. "
Her advice to Vivian's Door team is to; "think about holding an event for Black Business Month in the City of Mobile to highlight successful businesses in the community." Furthermore, the event could include matchmaking and panel discussions with an attorney to go over contracts, an accountant to go over tax benefits for business owners, a banker to go over banking relationships, and an insurance person to go over insurance and bonding, and so much more "She believes it would be great for micro businesses to hear, and Vivian's Door would have a ton of engagement because of the event." Vivian's Door always acts on supporters' advice and is now working with Mrs. Koen on the planning and execution of the "Handling Your Business" Convening, in August 2023.
Join us in celebrating Larry Koen, Jr., and Carita Koen for their unwavering support today!
Connecting with Green Magic Landscaping HERE