Meet Marjorie Seltzer: A Nurse Practitioner Committed to Serving Others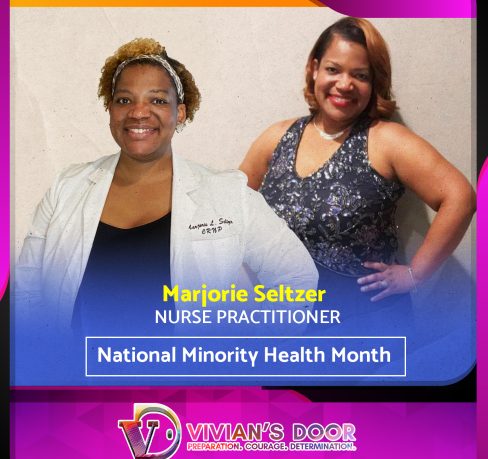 This April, as we mark National Minority Health Month (NMHM), a time to call attention to and raise awareness about the vast health inequalities that continue to affect people across racial and minority groups. It's also a time to encourage collective action through health education, early detection, and control of disease complications.
The 2022 NMHM theme this year is 'Give Your Community a Boost!' We give our community a Boost all month long by highlighting black professionals who lead the way in the healthcare industry.
Today we share Marjorie Seltzer's journey through healthcare as a healthcare leader advocating and saving lives through her work as a Nurse Practitioner.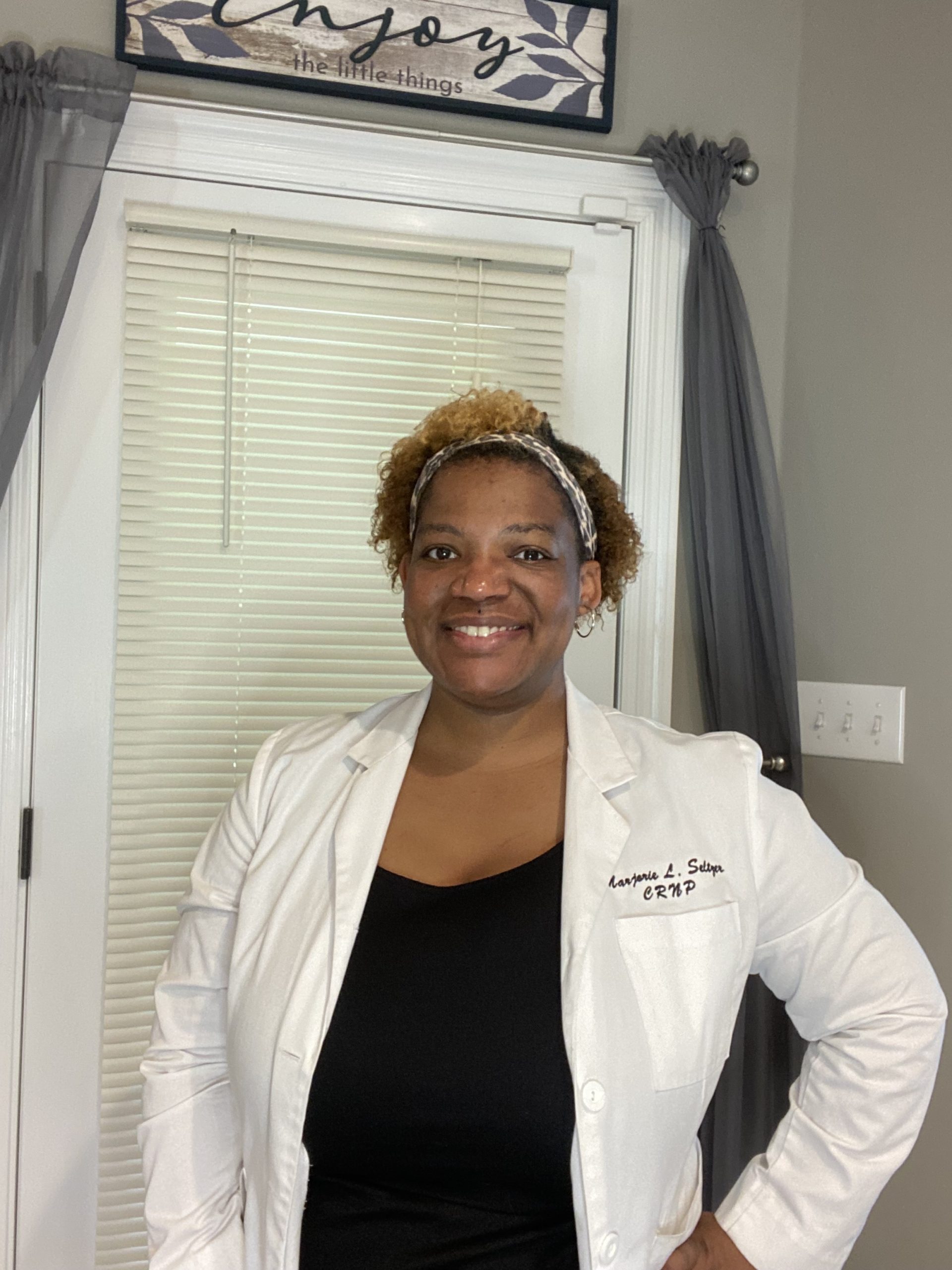 Marjorie Seltzer is a Nurse Practitioner in Palliative Care. Although she describes herself as shy and introverted, she is brimming with compassion, a quality she finds very helpful in carrying out her daily duties.
A quote she holds dear to her heart is one by Bryan Stevenson; "I'm not persuaded that the opposite of poverty is wealth – I've come to believe…that the opposite of poverty is justice."
Getting into the Healthcare Industry
She recalls the moment she decided to work in healthcare. She says, "I can remember it as clear as yesterday. During my junior and senior years in high school, one of my goals was to increase my community service. Based on that, I decided that I wanted a career that would allow me to serve others daily, which led me to decide to go into the Healthcare Industry."
Challenges/Motivation/Mentors and Future Hopes
Working in healthcare is really demanding and sometimes very stressful; Nurse Marjorie says, "I think that all healthcare workers would agree that the pandemic has been a major challenge. So many health care workers have given nothing short of blood, sweat, and tears to save their patients' lives. Some even lost their own lives working to save others. Understandably, many have questioned whether this profession was right for them, and at times, myself included – 'I've wondered if it's really worth it?' Before the pandemic, many healthcare workers struggled with physical complications related to being a healthcare worker. The pandemic seemed to have made matters worse; cases of fatigue or exhaustion and mental health complications increased even to the point several healthcare workers were seeking out another profession altogether."
When such thoughts come to her, Marjorie says, "I always remember what drives me – what keeps me going through all the pressure, and I say this all the time; my patients are my motivation." They motivate her each day to strive to become a better person – to give her best to her work. "They make me appreciate life. I remember what they had to go through, and I know I am not experiencing half of what they had to put up with, and they never give up. Their determination drives me today to fight – to keep going until the end. And to me, they are the true winners, the REAL MVPs!"
Looking ahead, Ms. Seltzer hopes to become a professor in a nursing college one day. She recalls how challenging nursing college was; she says, "I would not have made it through nursing school if I did not have so many dedicated professors. I remember crying one day during one of my clinicals, and my teacher pulled me to the side and was so patient and understanding with me – that really helped me, and it meant a lot to me. I hope that I can have that kind of impact on a future nursing student one day." Secondly, she hopes to become an entrepreneur within the healthcare field someday. She profoundly admires nurses who start their businesses geared towards homeopathic treatments. She says, "I believe that our community is not aware of how much this type of care can positively impact their health."
Minorities: Advocating for their Health
For Marjorie, health advocacy is vital; she says, "the more informed you are, the more you can advocate for your health, the better the outcome. I always tell patients, 'no news is not necessarily good news. If you have had recent diagnostic tests, even if they are routine and you have not received a call from their office regarding your results, CALL THEM!!! As a culture, I believe that our older generations are terrified of asking providers questions about their health care. Do not be scared. Our job is to inform you about your healthcare to facilitate appropriate decision-making completely. If you have a provider who is not taking the time to answer your questions or do not think you are getting the correct information, please seek another provider who will. It would be best to be comfortable enough with your provider to talk about your healthcare. Also, stay up to date on cancer and wellness screenings. Early detection is always best. Please do not be scared to go to the doctor."
Health Equity is a Necessity!
"Health equity means giving everyone a chance to receive the best care possible, especially the most vulnerable," Nurse Marjorie says. She also notes with sadness "that indigent or uninsured patients do not always get the same quality of care that an insured patient does." For instance, when she worked as a nurse navigator, she recalls, "I initiated a program in which under or uninsured patients could receive their chemotherapy as an outpatient.
Previously, these patients were hospitalized to receive their treatments because they could not afford to have them administered in the cancer center with other patients receiving the same treatments. This program alone allowed patients to receive the same quality of care that insured patients received. She points out that programs like this promote health equity and increase the quality of life." Nurse Marjorie says, "It allows those patients that may be a part of a lower socio-economic class not to worry about the fact that because this is the case, their healthcare could be jeopardized or inadequate, which could ultimately lead to death."
Lastly, she advises anyone uninsured or underinsured to make an effort to follow up with providers, although this is not the natural thing for them to do. From her experience, "they should not wait until it's too late to seek evaluation for health issues because they are worried about the cost and getting left with a bill that they will not be able to pay."
Young Person of Color Interested in the Healthcare Industry
Nurse Marjorie exclaims, for anyone working in healthcare, "it's an honor," but particularly for a young person of color considering going into healthcare. She further observes that the fact remains that there are so many health disparities for people of color, and she believes "that each time a minority puts on a white coat or enters the healthcare field, it brings us one step closer to bridging that gap. No matter what part of the healthcare field you work in, her advice is; 'always think of ways that you can positively impact the health of the most vulnerable.' When those gaps begin to close between upper/middle vs. lower class, vulnerable vs. non-vulnerable, uninsured or underinsured and insured, minorities vs. non-minorities, elderly vs. younger generations, we all win."
Summing Up
As a palliative care nurse with several years' experience, Nurse Marjorie recommends that; "When making decisions, especially the more difficult ones about your healthcare or your loved ones' healthcare, always consider the quality of life." She points out that healthcare decision-making has many gray areas, and she did not realize this until she began working in palliative care. "You do not always have to choose between aggressive treatments or no treatments. Just because you are told 'there is no cure does not mean that there are no options; remain open to all the information you are receiving. The more informed and open you are about your healthcare, the greater your chances of a good outcome."
Lastly, she sums up by saying, "I cannot stress enough; it is never too early to think about advance care planning. Advance care planning allows you to make decisions about your healthcare if you were ever in a state where you could not make those decisions on your own. It also allows you to designate someone to make them for you if you could not make them yourself." She stresses, "I cannot tell you how many complicated cases I have been involved in where the family members or loved ones left to make the decisions did not know the patient's wishes." Conversations like these are difficult but essential. Because ultimately, it can ease the burden of your loved ones to have to make these decisions and prevent you from having medical treatments that you would not want to endure. It's easier said than done, I know! I am yet to do this myself; however, it is so important."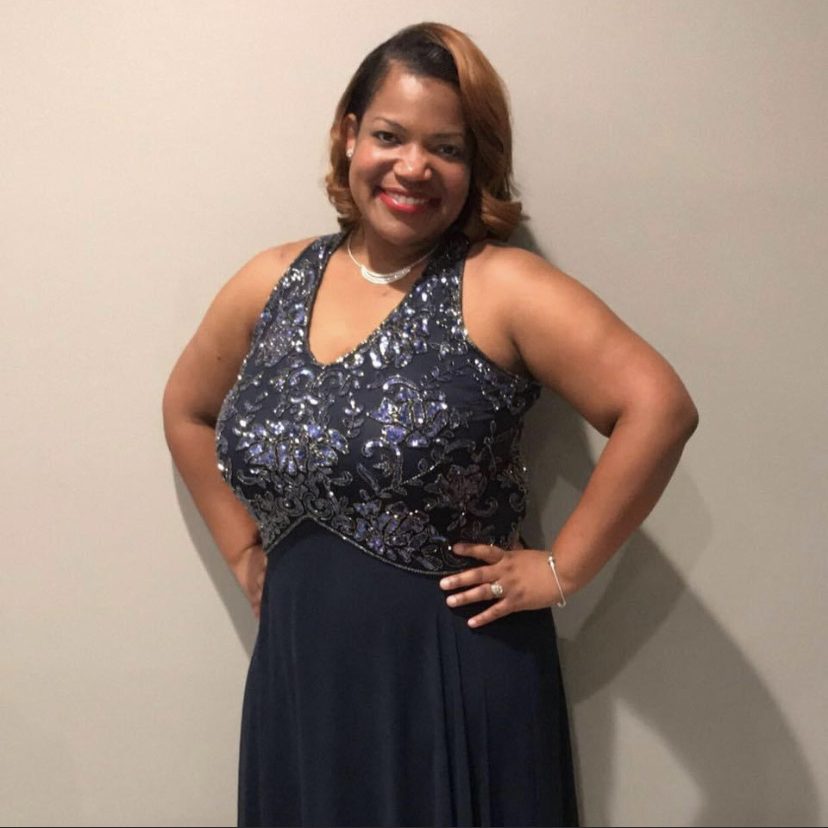 Thanks so much, Marjorie Seltzer, for sharing your healthcare journey with Vivian's Door. We applaud you for your work and the work you will continue to do to create change in healthcare! Be sure to follow @Vivian's Door for more inspiring stories!