Impactful Leader Creating Change For the Youth
Today we continue the countdown on our 10 – Day Gratitude Hero's Season 2022, Vivian's Door wishes to spotlight Ann-Brooks Morrissette, CPA – the Executive Director of the Fuse Project, a nonprofit organization based in Mobile, AL. A genuinely visionary and impactful leader, she's been running the Fuse Project with tremendous impact on the community for over six years. We appreciate her support of the Vivian's Door Initiative. She's been a remarkable helper and friend of our cause.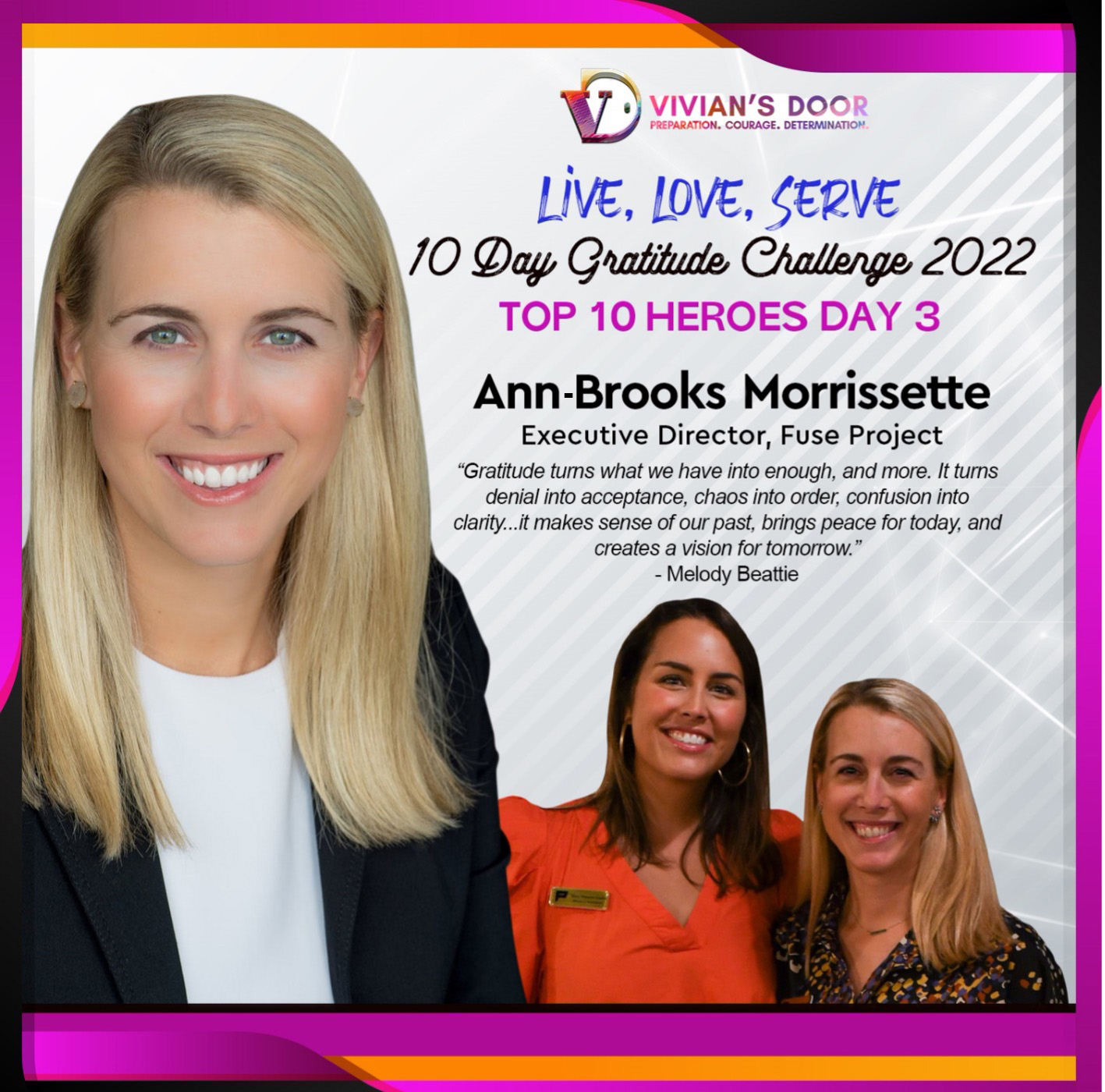 On her choice of a career in nonprofit, Ann-Brooks says, "coincidentally enough, Mary Frances and I both have backgrounds in the accounting world, and if you know either of us, you know our personalities don't quite fit that mold!" After college, she searched for something different but still needed to learn what that might be. While in college, she recalls, "I spent much time involved with a mentoring program for children in underserved communities. That was something that really warmed my heart."
Looking back now, Ms. Ann-Brooks reveals, "I realize that the work I did in college with a mentoring program for children in underserved communities sparked my desire to serve and invest in youth. That came full circle when I moved back to Mobile and crossed paths with the Fuse Project, a local nonprofit newly launched by a small group of young professionals." "When the opportunity arose, I took a leap of faith into the nonprofit world and have never looked back. I have learned more than I could have imagined in just six years and look forward to what the future holds."
Morrissette is a down-to-earth people person who regularly interacts with different people within the community. Always striving to learn more – "I can't say I have one particular mentor I lean on, but rather look to many different people in our community from whom I glean from – mostly all who have more experience than me. I try to stay connected with and learn from them." "Whether that involves grabbing coffee with a leader in a specific field or catching up with a fellow mom of young children about how she balances work/life, everyone I have reached out to has been willing to share their knowledge and network. You have to ask, she remarks."
Ms. Ann-Brooks is totally in on the work of the Vivian's Door Initiative. "Not only do we love their team and enjoy partnering with them for community events, but we recognize that Vivian's Door provides an invaluable resource in our community. As our organization strives to close the opportunity gap for children in our community, we know it is just as vital that equitable opportunities are provided to adults to transform communities truly. Many minority business owners have the vision and determination to succeed but may lack access to critical resources and support. In the spirit of Vivian Malone Jones, Vivian's Door is championing those individuals and businesses and equipping them with the tools needed to grow their businesses successfully."
Ms. Ann-Brooks Morrissette thinks the Vivian's Door team has their work cut out for them, and to keep right on track – she retorts, "I think I should be asking y'all about suggestions and ways to improve!"
We celebrate Ann-Brooks Morrissette, CPA, today!
Learn more about the Fuse Project and The Historic Avenue Foundation  https://www.fuseproject.org/ , and connect!