Creative Chef Serving Tasty Memories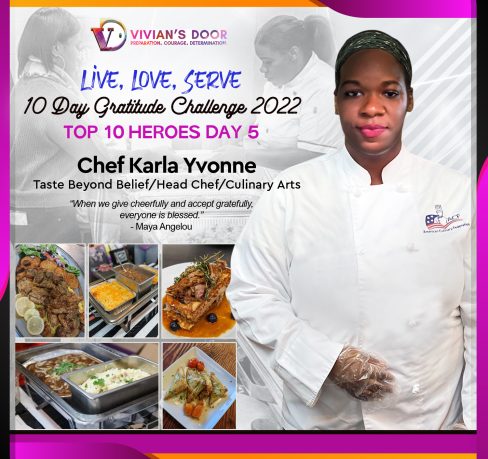 Today is about culinary arts and succulent food. Join us in spotlighting Chef Karla Yvonne, a fantastic chef who joined in and helped us when we asked her to participate in our inaugural Soul Food Cookoff  launched at the 3rd Annual Walk-Through Vivian's Door Market Festival. For the 2nd Annual Soulful Sounds of the Season on the Avenue Christmas program she donned her Head Chefs hat to assist us in planning a healthy, delicious, and nutritious meal which she beautifully prepared with love, affection, and succulent taste for over a hundred guests. We celebrate her today!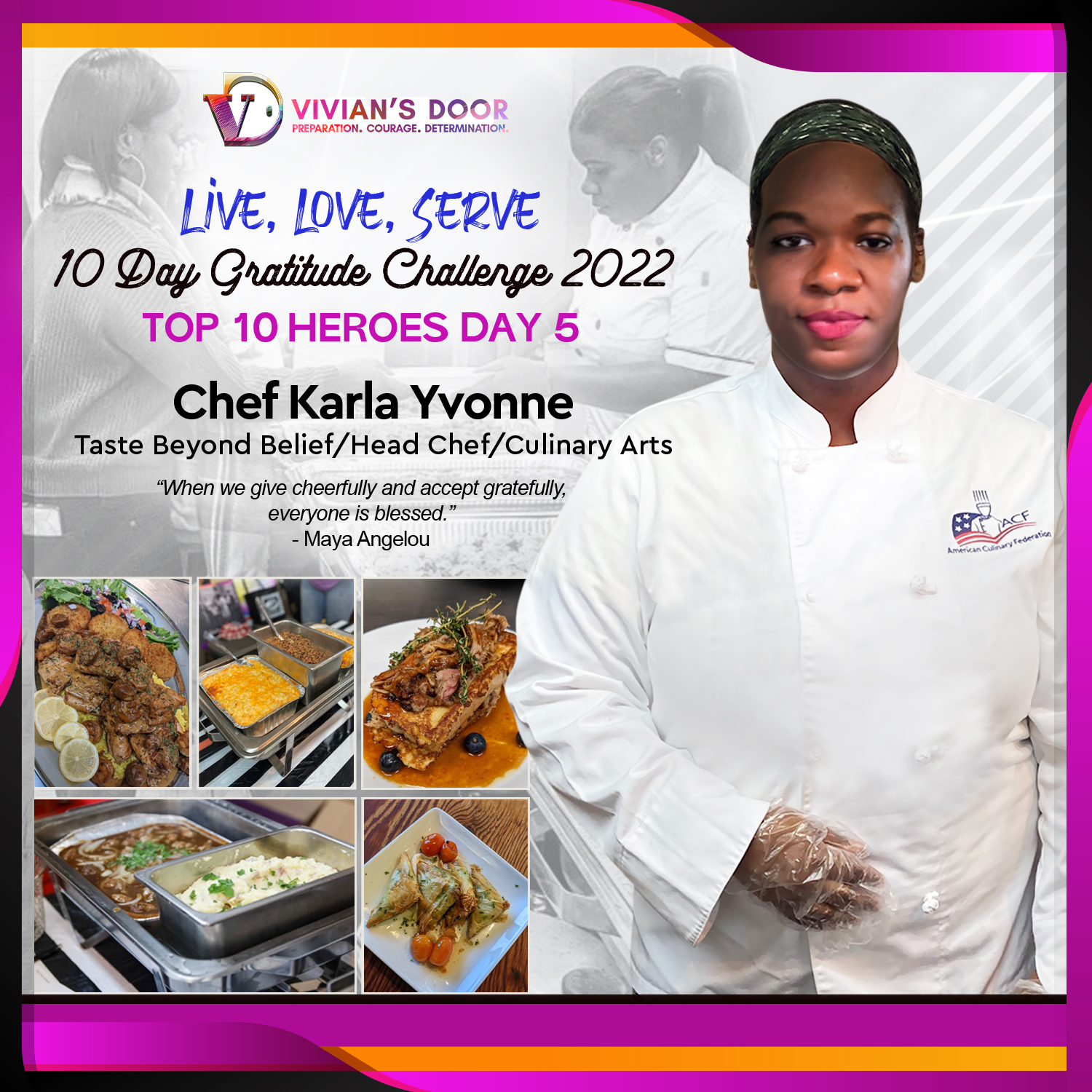 Chef Karla is Head Chef at Taste Beyond Belief/Culinary Arts. She leaped into the Culinary Arts profession right out of High School in 2009. Cooking came naturally to me. She says, "It's something that I fell into fairly easily." She draws her love and inspiration for cooking healthy, delicious meals from the women in her family, starting with her grandmother. She says, "…I glued myself to grandma's hip growing up. Where she went, I was right with her through the kitchen door, in front of her bed, curled up watching the Food Network Channel learning the art and craft of cooking, from the ingredients, techniques, flavors, and so much more. Through this lens, I experienced the joy and creativity of cooking."
She recalls enrolling in both Bishop State Community College's Culinary Arts Program and Virginia College Culinary Program at one time. "I gathered my first actual title of chef back in 2008 with a promoted position to Sous Chef," and through many highs and lows, it's been a fantastic experience ever since. "I love what I'm gifted to do – I thank God for my purpose and for allowing me to walk in it graciously. Simply knowing that it has put a smile on someone's face, is a highlight of their day, or a single bite triggering a nostalgic childhood memory of some favorite dishes makes it all worth it"
"I like seeing our community supporting one another. It's wonderful to witness. Vivian's Door is motivated and actively helping the community and bringing awareness to local businesses, aiding them in further growth," Chef Karla observes.
Chef Karla has had many mentors. "I consider anything or anyone inspiring as a sort of mentor. Although I cannot pinpoint just one person, I learned much through vision first. Being aware of my surroundings and being present in those teachable moments has taught me more than anything else I could think of."
She wishes Vivian's Door the best, an even more impact, and a prosperous future.
Drumroll please…We celebrate Chef Karla Yvonne today!
Be Sure to Follow Chef Karla on Facebook https://www.facebook.com/tastebeyondbelief