Community Activist Committed to Creating Change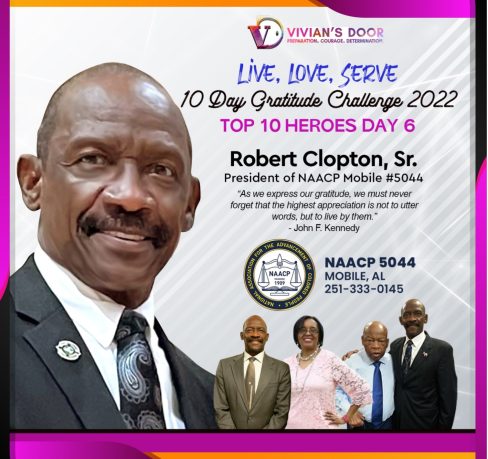 Vivian's Door honors Mr. Robert Clopton Sr. today for his unwavering support of our cause. 
Robert Clopton, Sr. has been volunteering for over four decades; he and his team are local activists fighting for the rights of marginalized people of color. His volunteerism started when he retired from UPS after 32 years, with 29 being in management and 28 as a partner. After five states and numerous cities, Robert retired in Daytona Beach, FL. On his first day of retirement, he began volunteering full-time for the United Way, the Volusia School System, and the March of Dimes. In 2013 Robert and his wife, Angela, relocated to Mobile, AL, where he continued his volunteer service.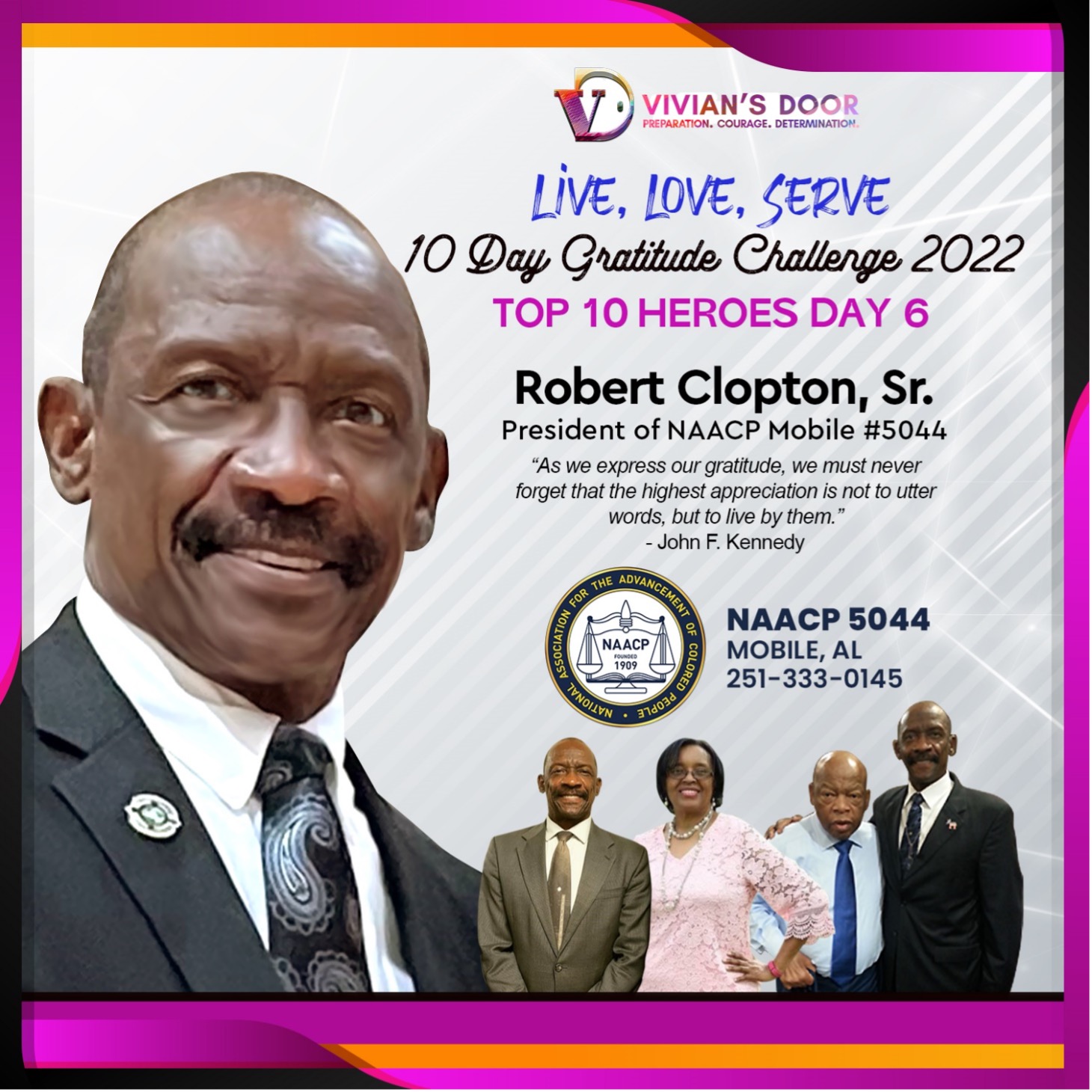 Mr. Clopton is President of the Mobile County NAACP Unit #5044 branch AL, a nonprofit organization founded in 1909. He is a go-to community outreach partner; his team has always assisted us with community projects.
Roberts' keen interest in volunteering stems from his mantra, Philippians 2:3, which states, "do nothing out of selfish ambition or vain conceit, but rather in humility value others as yourself." He continues to value others and assist them in living this blessed life he has been given.
The NAACP carefully chooses the partnerships and relationships they form in the community. …"Current members of the NAACP in Mobile and the Vivian's Door family are unaware of this fact, but the motivation for the NAACP's support of Vivian's Door can be traced back to 1963 when Ms. Vivian Malone sought to complete her education at the University of Alabama," Robert writes. The NAACP, the Malone family, and other civil rights organizations collaborated to ensure her admission, safety, and matriculation at the University. The Malone family and the NAACP are synonymous with civic involvement; thus, the Mission of Vivian's Door is inextricably linked to the NAACP's mission and vision."
Mr. Clopton's support for Vivian's Door stems from the NAACP's mission, which addresses "political, educational, and social inequities of all people; additionally, the NAACP's mission seeks to ensure the economic equality of rights of all people." Our mission is perfectly aligned with Vivian's Door's mission of "assisting small businesses in building wealth for themselves and residents in their communities who are marginalized, face systemic poverty, and have low levels of venture capital." According to Robert, the overlap between the NAACP and Vivian's Door missions is "critical to the survival of our communities."
Robert is enthusiastic about Vivian's Door's impact on the community and says: "…always stick to your mission. You have already shown yourself to be essential to many people in the neighborhood. By carrying the torch for the Malone family, you demonstrate their tenacity, advocacy, and generational resilience. Please continue the good work."
We celebrate Robert Clopton, Sr. today!
Visit  https://www.facebook.com/MobileALNAACP to learn how to get involved with the NAACP.
Follow Vivian's Door for more inspirational stories!