Childhood Friends Working Together to Build Generational Wealth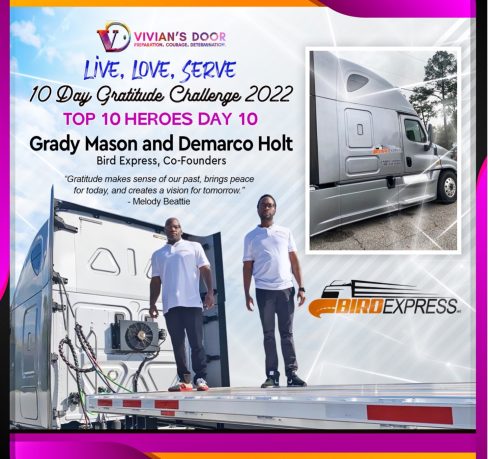 Meet Grady Mason, Jr., Demarco Holt, Richard Striverson, and Ernest Battles, our Day 10 Heroes of Gratitude co-owners of Bird Express LLC, headquartered in Mobile, AL. With a burning desire to work together, build generational wealth, and make their communities better, Grady, Demarco, Richard, and Ernest, childhood friends, maritime industry partners, and managers with over 60 years of combined experience in the transportation industry launched full-scale operations of Bird Express, LLC in 2022.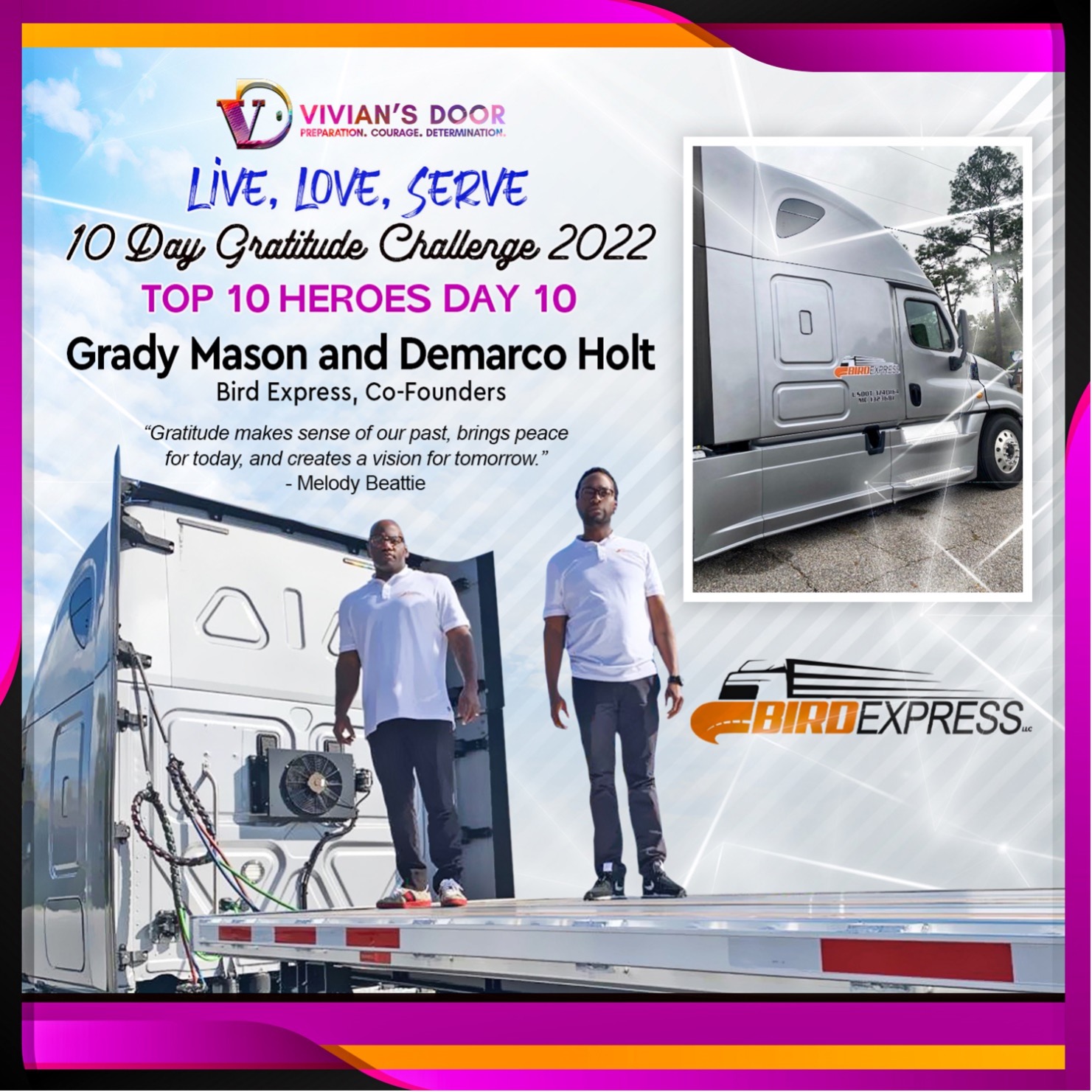 They have been an immense help to Vivian's Door, and we salute them today for their contributions to our cause.
Mr. Grady says, "Our team has over 60 years of experience in the transportation industry. With supply chain disruptions and so many other transportation industry issues, it only made sense to go into business as a formidable team ready and able to provide solutions." Operations began full-scale in the last quarter of 2022, covering logistics, dispatch, and compliance requirements throughout the United States. 
Bird Express, LLC provides best-in-class transportation services, ensuring that customers have less to worry about by safely and efficiently moving their belongings. Grady says, "Our foremost goal is to deliver our customers' goods from one destination to another with exceptional customer care, on time, on budget, providing professional quality service. Safety is job one! Our company values are to have fun while serving
our customers. We love what we do!" 
The company has secured all relevant licenses and permits needed to operate locally and throughout the United States. Additionally, the company partnered with Motor Carrier Consultants Inc (MCCI) to stay compliant with DOT regulations, hire, certify, and maintain USDOT-compliant drivers, provide management auditing reports and driver logs, and file required fuel tax reports. They have one truck in their fleet and are
looking to purchase another. Their central office syncs to their truck via an automated polling system that directly provides load pickup and other relevant information to the driver.
Mr. Mason says, "My parents played and continue to play a prominent mentorship role in my life. I'm so grateful for them — my dad taught me much of what I know today." Grady has had business mentors; cutting across a significant number of people (from relatives to associates), and he notes; "I read a lot of self-improvement literature."
Mr. Mason believes intensely in Vivian's Door's mission. He says, "I believe strongly in Vivian's Door movement to help small businesses who are marginalized find resources and build wealth for themselves." For Mr. Grady, Vivian's Door's mission and vision, "Together we rise!" means "Opportunity — a better future is yet to come, from one generation to the next, with wealth and good health." "My advice for Vivian's Door is to stay on course until the vision has come to fruition. I firmly believe it will. We stand ready to help and support you in whatever way we can."
Join us today as we celebrate the Bird Express, LLC Team – Grady, Demarco, Richard, and Ernest!