Celebrating the Legacy of Dr. Joaquin Miller Holloway, Jr.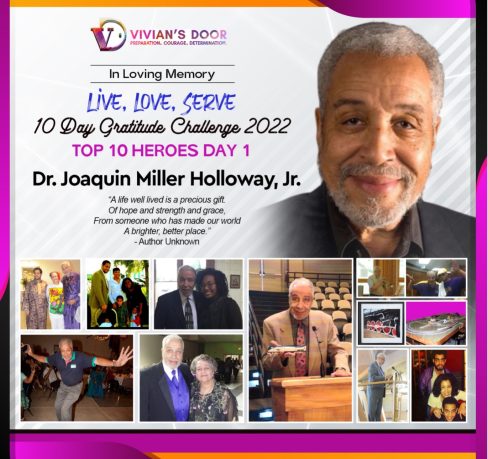 Today, we honor the memory of Joaquin Miller Holloway, Jr., Ph.D. founder of Artistic Photographs by Joaquin and so much more. He lived a long and impactful life. On the day before he transitioned this earthly life, he called Vivian's Door to thank us for all the excellent work we do in the community and for honoring him as a hero of gratitude. We applaud Joaquin's inspiration and contribution to our mission. He was an enormous supporter, always providing humor and advice and consistently donating to our fundraisers. We want to share with you what he thought about our work and mission; "helping small business owners build wealth for themselves and their marginalized communities, overcome systemic poverty, and the short supply of venture capital."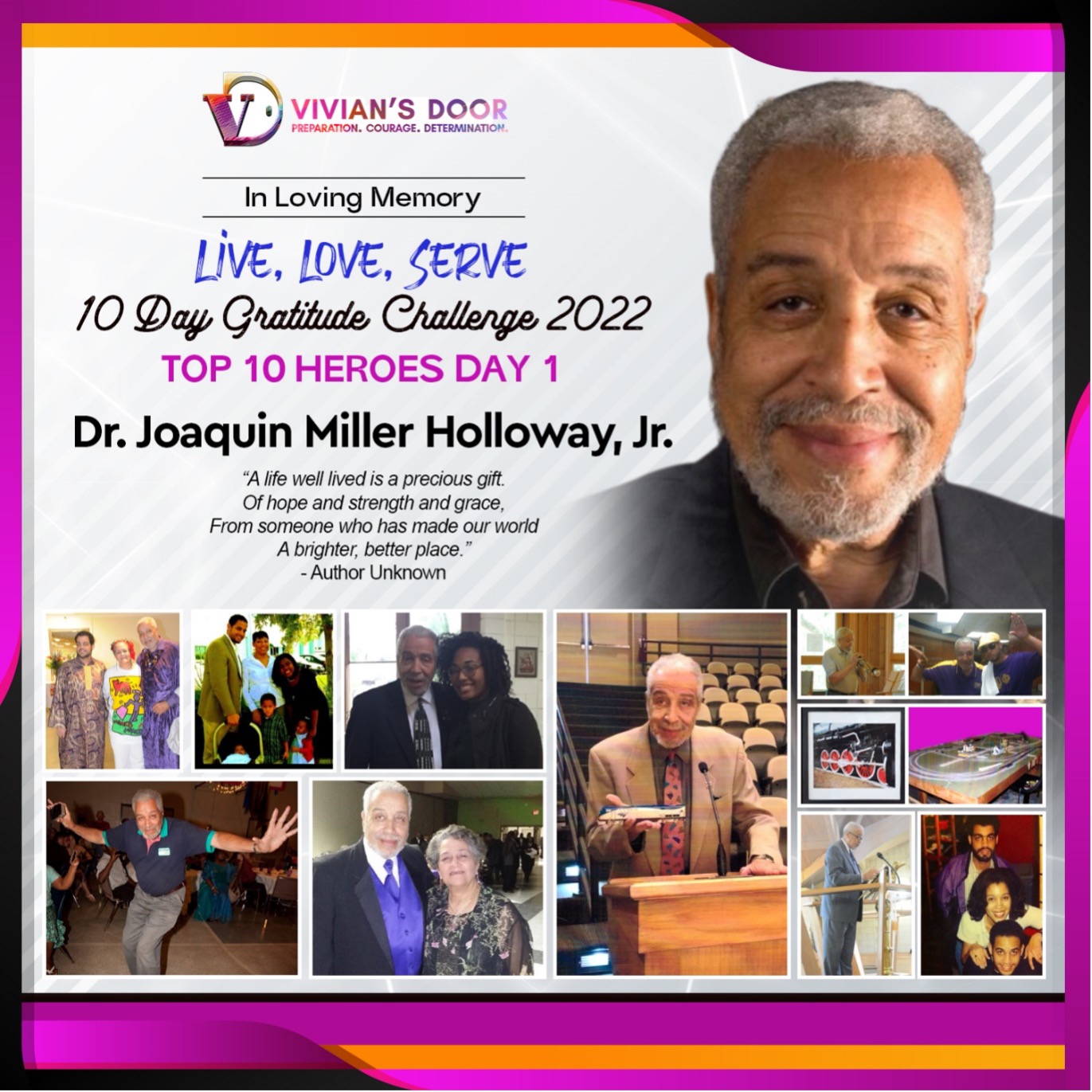 Joaquin M. Holloway, Jr., was born on December 28, 1937, in Mobile, AL, to Joaquin M. Holloway, Sr., and Lucy Ariel Williams Holloway. He graduated from Central High School, Mobile, AL, in 1953. He then went to Talladega College, where he joined the Gamma Phi Chapter of Omega Psi Phi Fraternity, Inc., and received a bachelor's degree. His thirst for knowledge further led Joaquin to acquire two degrees from Indiana University: an M.S. and an ED.S. He also received a Ph.D. degree from the University of Alabama.
He was an educator for many years, challenging Central High School and Texas Southern University students to strive for excellence. He met the love of his life Malvina Murray, and they married and had three children. Joaquin joined the faculty at the University of South Alabama (USA) as their first Director of Instructional Media in 1969. He taught a required Business class at the College of Business Management until he retired.
He was elected president of Culture in Black and White (a name he coined) after Mrs. Gladys Cooper's death. He was one of the founders of this cultural arts program that operated for 32 years, training thousands of underserved and marginalized young people in the Mobile, AL area. He hosted a top-rated weekly jazz radio program called "Holloway House" for over a decade.
Dr. Holloway is a second-generation Omega Psi Phi Fraternity, Inc member. His uncle Herschell Roger Williams was one of the founders of the local chapter—Rho Alpha—organized in 1938. His son, Josef Michael Holloway, is now a third-generation member of this national Greek-letter organization established in 1911 at Howard University in Washington, DC.
The world of photography has long held an important place in Dr. Holloway's heart. Upon retiring from the University of South Alabama in 1998, he had more time to focus on this art form. Also, his CPA suggested, "you need to decide if you want to do photography as a hobby or as a business." Photography has been a passion for many years, and he frequently used the slogan, "Too legit to quit," and made the business legal. His cousin, the late Mrs. Gertrude Baker, helped him design the logo's style. Then, he wrote a Mission and Vision statement, naming the business "Artistic Photographs by Joaquin." The rest of this sequence is history. He has countless files of images, with prints on display in many prominent locations throughout the Mobile County area, the state of Alabama, and in many neighboring states. He always used 35-millimeter film as his medium of choice, referring to his extensive collection titled "Scenes I've Seen™.
Another of his lifelong hobbies was model railroading. He cherished his first train set, which he always quipped, "It still runs." He participated in train shows and other activities related to this pastime. Two of his color photographs of local scenes are mounted inside the Buena Vista Business Car as it travels throughout the country on the Norfolk Southern Railroad system.
Dr. Holloway supported the Vivian's Door Initiative because, years ago, "…when I graduated from Talladega College in 1957, I wanted to get a graduate degree from The University of Alabama, but it was impossible to back then as blacks were not allowed to attend that school in the 1950s. But all this changed when Vivian's Door's namesake, civil rights hero, Vivian Malone Jones, defied Alabama Governor George Wallace's attempts to deny her an education. In 1963, with state troopers at her side, she marched through the University of Alabama's School of Commerce and Business Administration doors. Two years later, she changed history forever by becoming the first Black graduate of the University of Alabama." Her actions paved the way for many to attend the university years later.
For Dr. Holloway, the Vivian's Door mission meant an open door for African Americans to walk into opportunities. He always said, "…I think a lot of people feel entitled or have the benefits of white privilege. I believe African Americans should also be able to walk through a door of privilege."
He considered his parents his first mentors in his vibrant and long life. They were great teachers, mentoring and exposing him to life lessons and experiences. His mother, Lucy Ariel Williams Holloway, a graduate of Fisk University, was an educator and poet with five published poems in Opportunity, one of the Harlem Renaissance leading journals, and was the best mother anyone could have. She was a great mentor. Her most famous poem was Northboun', and Ariel Holloway Elementary School in Mobile, AL, is named in her honor. His father taught him a lot of life lessons and experiences. Joaquin Miller Holloway, Sr., graduated from Talladega College in the 1930s, joined Omega Psi Phi Fraternity, Inc., graduated Magna Cum Laude in Physics, and went on to teach at Dunbar Junior High School.
His grandfather Dr. H. Roger Williams, a graduate of Meharry Medical College, a pharmacist, and an M.D., was another one of his great mentors. When the local authorities wanted him to put "Colored" on the sign in front of his business, "Live and Let Live," located at 607 Dauphin Street, currently Wintzell's Restaurant, instead, he put a picture of himself in the window.
Gordon Parks, a famous American photographer, was Dr. Holloway's idol in the field of photography. Mr. Parks was a great photographer and used black and white in his photographs. He always said, "…My work is in color, I use 35 mm film, and everything in my collection is unique and authentic."
Dr. Holloway considered Vivian's Door a great community asset to promote better to help people realize that there are many incredibly talented people of color in the community who are not getting credit for the things they do.
Join us in celebrating the memory of DR. JOAQUIN MILLER HOLLOWAY, JR. Today!