Meet Arielle Hollins, A Healthcare Leader: Advocating and Saving Lives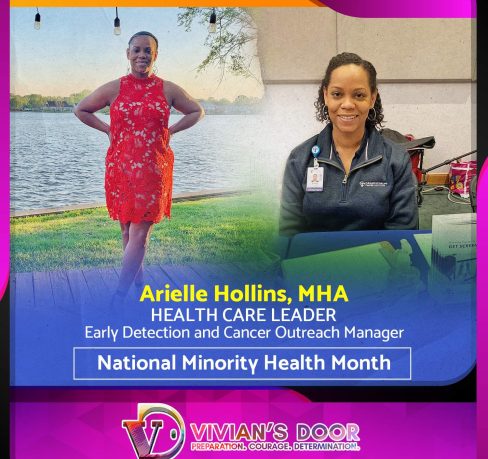 This April, as we mark National Minority Health Month (NMHM), a time to call attention to and raise awareness about the vast health inequalities that continue to affect people across racial and minority groups. It's also a time to encourage collective action through health education, early detection, and control of disease complications.
The 2022 NMHM theme this year is 'Give Your Community a Boost!' We give our community a Boost all month long by highlighting black professionals who lead the way in the healthcare industry.
Today we share Arielle Hollins's journey through healthcare as a healthcare leader advocating and saving lives through her work as an Early Detection and Cancer Outreach Manger.
Arielle Hollins, MHA "We are our own greatest advocates."
Arielle Hollins, MHA, is a Healthcare Leader who currently works as the Early Detection and Cancer Outreach Manager at Our Lady of the Lake Cancer Institute in Baton Rouge, LA. She sat down to chat with Vivian's Door about her entry into the healthcare industry, her work, and its impact on the community.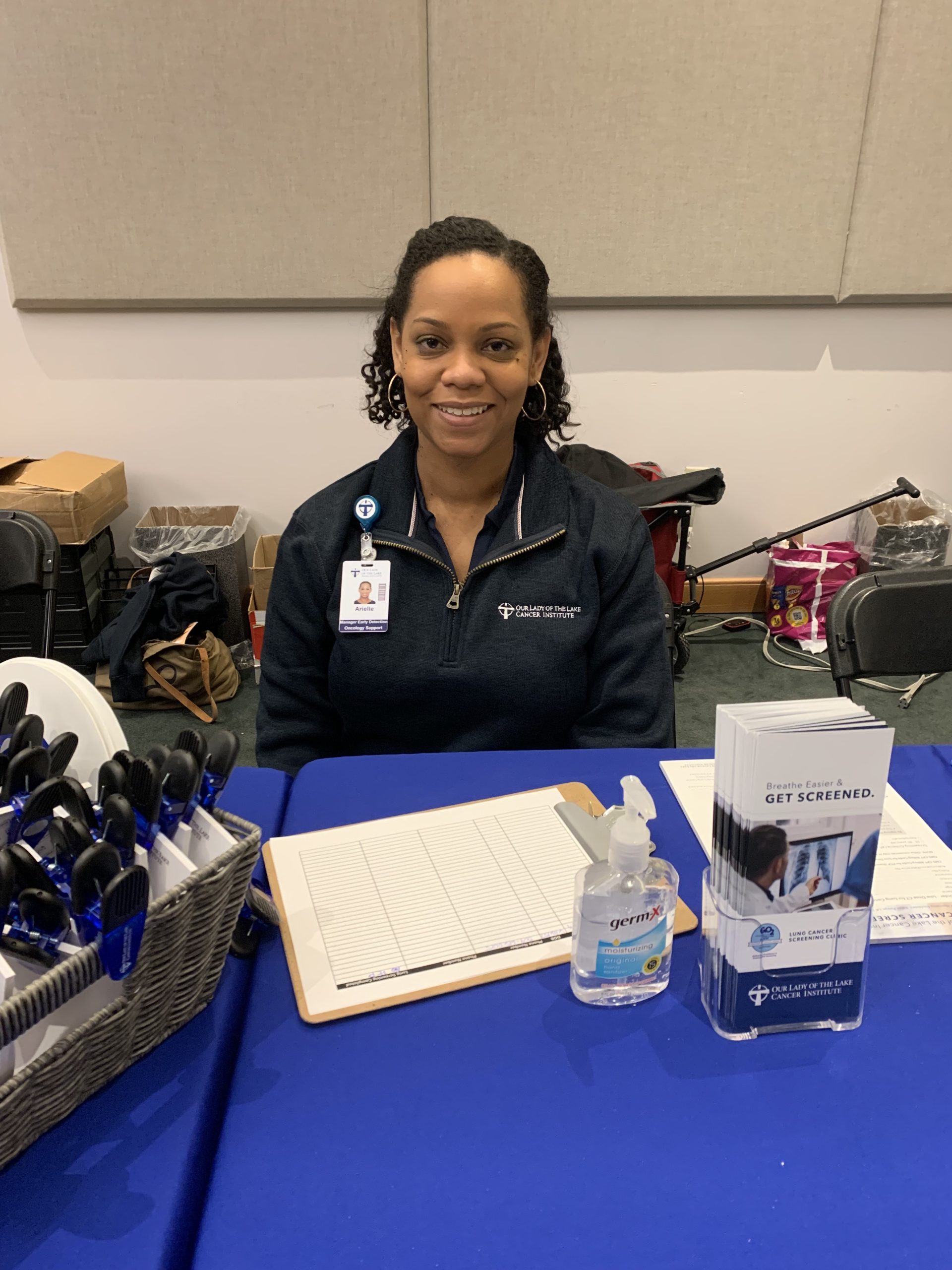 Getting into Healthcare Industry
While Arielle Hollins developed a curiosity for healthcare at a young age from different visits to doctors, her interest did not have any other settings to blossom until she got into high school. As a student athletic trainer – she got more exposed to medicine through sports. Her passion began to grow; she says, "From there I pursued a BS in Kinesiology from California State University, Northridge, 2010, and eventually a master's in healthcare administration from Seton Hall University, 2015".
What drives you, and why do you do what you do?
Three words that best describe me are as follows: Determined, Passionate, and Inquisitive. Her strong drive for her work as the Early Detection and Cancer Outreach Manager at Our Lady of the Lake Cancer Institute, Baton Rouge, LA, can best be summed up by a quote from Bernard J. Tyson. "Don't ask permission to help improve the lives of the people and communities you've pledged to serve. Instead, march through the doors of red tape, make bold moves, and usher in access for your communities to be served."
Challenges/Motivation/Mentors
College was a challenging time for Arielle; she recalls, "when I started college, I had a defined career path, but things did not work out, and I did not get accepted into the Athletic Training program at my university. I had to decide what I would do next."
She remembers, "talking with two of my undergraduate mentors and professors; Dr. Frankie Augustin, an academic advisor, and professor at CSUN, helped guide my decision to go into the healthcare industry."
A little later, while thinking about going for her Postgraduate program, "I also talked to her about pursuing my MHA; she encouraged me to take an introductory class. That class taught me a lot about the foundations of our healthcare system. The professor encouraged us to take positions in the patient access department of a hospital to learn even more. That is what I did. My first hospital position was as an Emergency Department Registration Clerk. It exposed me to more than I could have ever imagined. I learned about departments and service lines and how they all work together to support the patient, so I decided to go into health administration."
The United States Healthcare Industry and Contribution
Mrs. Hollins says, "Healthcare is both a challenging and rewarding career. The US healthcare system is very complex. The solutions to the challenges our patients face is not always simple. It's inspiring to know the work I do now plays a role in improving individual and population-based outcomes."
"The single greatest accomplishment of my healthcare career is implementing a comprehensive lung cancer screening program. The technology and programmatic structure that we have put into place has saved many lives. Since 2018, we have completed almost 3,000 lung screening exams (Low Dose CT) and diagnosed 60 patients with cancer, 85% in early stage." She remarked.
Minorities: Advocating for their health
She feels strongly about minorities advocating for their health and says, "we are our own greatest advocates. I recognize that not everyone works in the healthcare field and understands all of the complexities of medicine and billing. But, if you do work in healthcare, you must advocate for yourself, your friends, family, and patients. For the patient or family member that knows something isn't right, continue to seek answers. Get second opinions when appropriate. We also need to do a better job of listening to our well-trained healthcare experts. Internet medicine is not always accurate. We saw how internet conspiracy theories impacted our community during the COVID pandemic."
Health Equity is a necessity!
For Mrs. Hollins, health equity is more than a necessity. It is a fundamental human right. We all deserve to be treated with the utmost care and respect during our most vulnerable times.
A young person of color interested in healthcare
Arielle strongly encourages young people of color to get into healthcare by pursuing clinical careers in medicine. She remarks emphatically, "WE NEED YOU!" 'We need people of color to become specialty physicians: Oncology, Cardiology, Surgery, Pathology, etc. We need people of color in our ancillary departments, imaging, lab, respiratory, etc. I am in more meetings than not where I am the only person of color, male or female. I am proud to be at the table to provide perspectives that might not otherwise be discussed, but I cannot do it alone!"
Summing Up!
Mrs. Hollins says that although we've come a long way in healthcare for minorities, a lot more still needs to be done. She says, "The path to creating a better healthcare environment for minorities is through advocacy and career development—advocate for one another at the bedside and with our elected officials. Encourage young people to pursue clinical careers in medicine. We need this representation in the specialty areas."
Thanks so much, Arielle Hollins, for sharing your healthcare journey with Vivian's Door. We applaud you for your work and the work you will continue to do to create change in healthcare! Be sure to follow @Vivian's Door for more inspiring stories!