Issue No. 28 – New Year…Fresh Start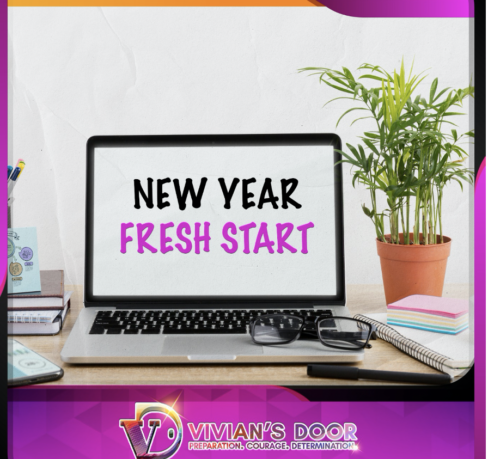 Issue No. 28
The countdown is over – and we've said our final goodbyes to 2021, along with all its challenges and positives. We reach out for the new – 2022 – a fresh start, full of hope, dreams come true, and expectations.
Although we're living with a new normal, stepping into a New Year is a great time to pause and reflect on where you are and what you want to accomplish in your life and business going forward. It's great to work on thinking in longer timeframes about the choices we make and how one spends resources of time and energy in the present to go from here to there.
As you think about what you'd like to do or achieve in the New Year, let the words of the late Gen., Colin Powell; "None of us can change our yesterdays, but all of us can change our tomorrow" remind us that no matter how 2021 was the New Year – 2022 is an opportunity to start afresh. We can change the narrative of our lives, businesses, families, and communities.
So, while we think ahead and make plans for 2022, it's also good to review what you set out to do last year and how well you did as a business and individual. Also, ask how we want to be better, make changes, and how would a pivot look and feel?
Furthermore, give yourself some credit: for doing the work and making the necessary adjustments and for the growth you experienced in 2021, the way you showed up for yourself and others, your resilience, the limits you overcame, the boundaries you set and maintained, your practice of self-care, mental health, and the many steps you took forward on your life's journey.
At Vivian's Door, we're proud to have had fantastic support from you, our community. We witnessed immense support and progress in 2021. And it has been an eventful year for us. We are putting together a more detailed breakdown of our activities and successes in the next newsletter.
As you reflect and think about 2022 consider the following.
What did you learn about yourself in 2021?
What moments had the most significant impact on you?
What made you feel fulfilled in your work and interaction with Vivian's Door?
How did you take care of yourself (mental health etc.)?What change do you want to see in your community?
What's the change you wish to see in yourself and your business?
Let us take the past year's lessons and begin 2022, hopeful and evolved.
Did Someone Say Government Contracting?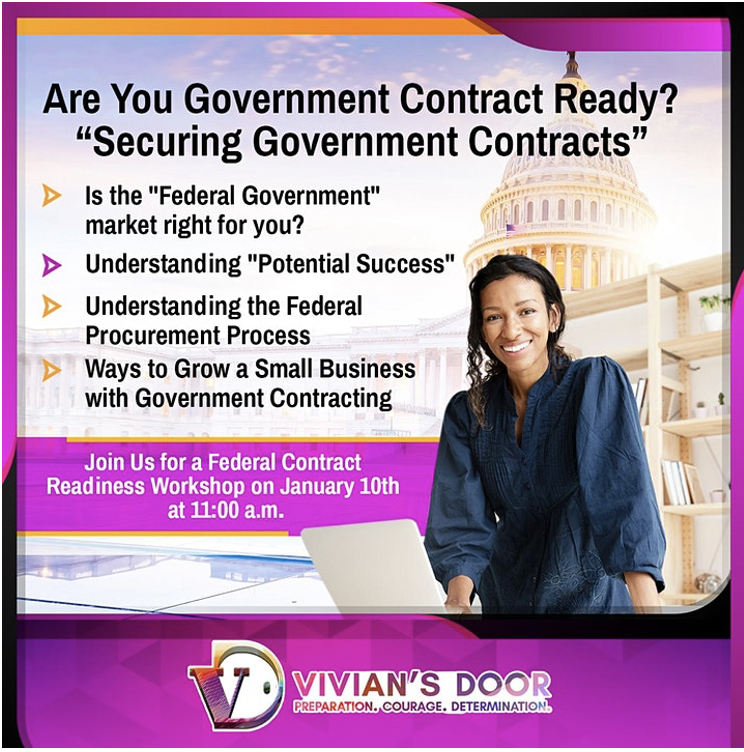 With more focus on contract opportunities for minority businesses, Vivian's Door joins forces with Ruffin Consulting, P.C., to give you much-needed information on government contracting. We have listened and have planned the following virtual event focused on getting contract ready:
Are You Government Contract Ready?
Monday, January 10, 11:00 – 12:00 am CST
As you scale your business, you will need to use every conceivable advantage to grow more customers. The government is the largest buyer of products and services, and as such, you need to understand how to become contract-ready to do business with them. This introduction to federal contracting class answers questions like, Is the "Federal Government" market right for you? Why would a company want to do business with the federal government? What does a small business need to do business with the federal government? How to do business with the federal government?
Join this event to learn about securing government contracts and get your government contracting questions answered by Eric W. Ruffin, CPA, CEO-President of Ruffin Consulting PC, an accounting and consulting firm. Eric is passionate about helping disadvantaged businesses understand the government contracting arena, become certified, and navigate federal contracting.
RSVP for the event today and have a fabulous week!
Small Business Resource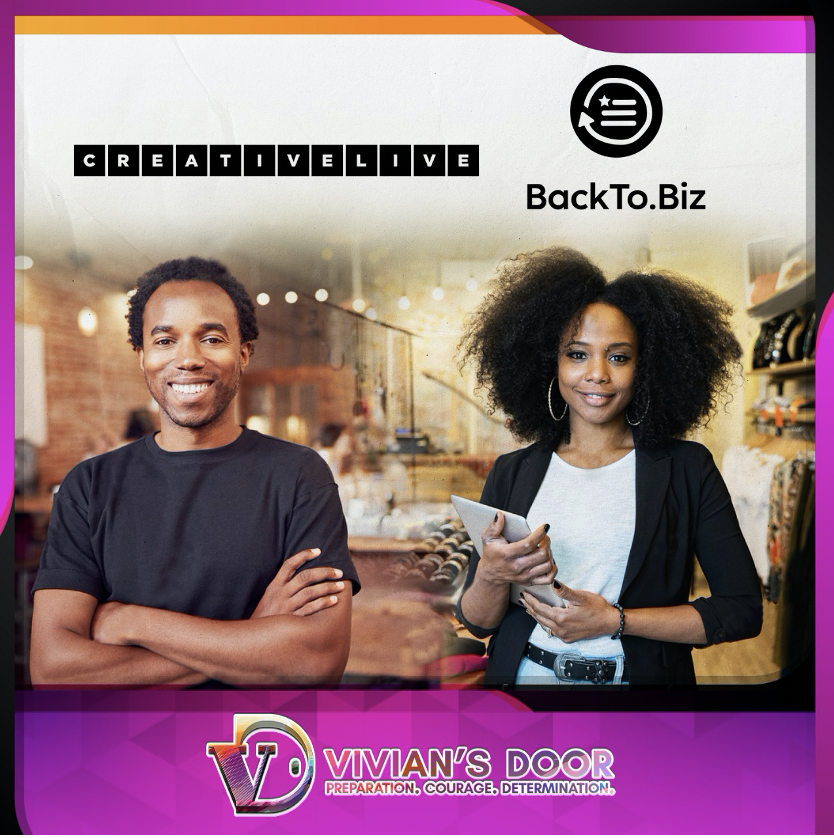 Our team is always working to bring the best of opportunities, resources, and tools to help you grow your business. This week we found a gem in BackTo.Biz a free online learning program created specifically for small business owners and brought to you by CreativeLive, a global leader in online learning. There is a collection of more than 400 individual video lessons, articles, and tools from a list of prominent, innovative, and passionate entrepreneurs.
The BackTo.Biz program informs, inspires, and motivates small business owners to continue in their quest for business success despite the ups and downs of the economy caused by the COVID-19 pandemic, climate change, and so much more.
Please pause for a moment to explore BackTo.Biz by CreativeLive here.
Funding and Grants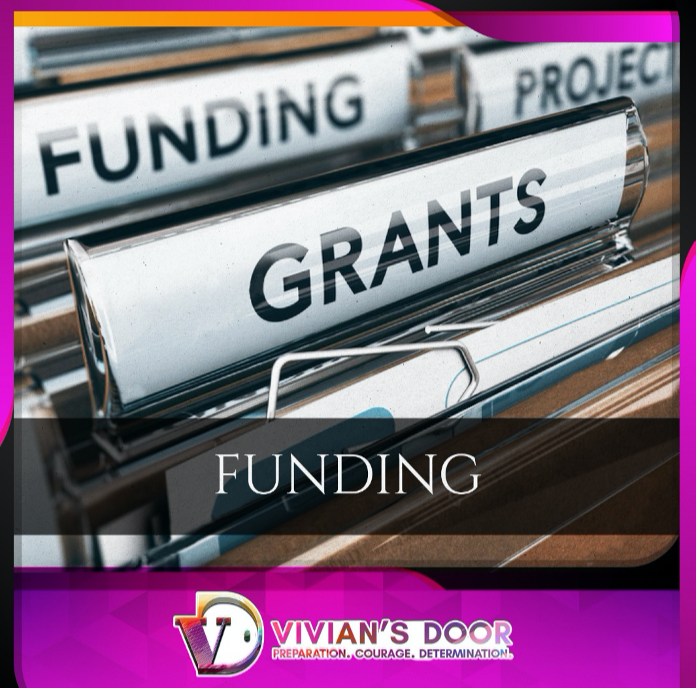 The SoGal Foundation
Provides $10,000 and $5,000 cash grants on a rolling basis throughout the year to black women and nonbinary entrepreneurs and business owners with a scalable, high-impact solution or idea with the ambition to seek investor funding in the future. Learn More.
The Inclusive Backing Grant Program
Backs underrepresented small business owners as they navigate the pandemic and plan for long-term success and resilience. American Express funds the initiative in partnership with Main Street America. They offer $1.65 million across 250 grants of $5,000 each to underrepresented small-business owners impacted by the pandemic giving financial support and other resources to address their needs and critical challenges. There are four waves of grants; the first is completed, and the initiative will announce the next wave in 2022. Learn More.
Southern Opportunity and Resilience (SOAR)
This fund offers $53 million in low-interest loans, providing flexible, affordable capital and free business support services to small businesses and nonprofits across the south and southeast to help them navigate and rebuild from the Covid-19 economic crisis. So far, the program has distributed $11 million to nearly 250 small businesses, with 90% of the loans going to businesses with ten or fewer full-time employees. Learn More.
America's Seed Fund
A decades-long grant program powered by the National Science Foundation. The National Science Foundation grant program, open to early-stage companies that need to prove their technology and find their market potential. The grant program has made about 3,400 awards to startups and small businesses since 2012, with 153 exits by those companies and $9.1 billion in private investment. The grant program gives out roughly $200 million per year to eligible businesses. Learn More.
Comcast Rise
A program created to help support minority-owned small businesses, not with cash grants, but with support services, including marketing consulting, media and creative production services including ads and media placement, as well as computer equipment, internet services, and more for 12 months. Applications close January 15, 2022, for minority-owned businesses, and a new program opens to all women regardless of ethnicity on January 16, 2022. Learn more.
GoFundMe Small Business Relief Fund
Provides eligible businesses up to $500 in matching funds if they start a GoFundMe fundraiser on the website. Learn More.
SBA Alabama District Office
Recently launched a series of SBA Loan virtual events to provide more information to small businesses on the SBA loan products and connect you to resource partners.
SBA Loans 101
It starts on January 6th and continues every first and third Thursday at 10 am CST. This virtual event is for participants with businesses less than three years old, both those thinking about starting a business and start-ups. The event provides basic preliminary information about SBA loans, and participants will learn how to :
Define commonly used business loan terms.
Understand the difference between SBA small business loans and SBA disaster loans.
Understand the core eligibility of all SBA loans.
Identify standard documents required to obtain an SBA loan
Identify resource partners that can assist AND… much more.
Register here for SBA Loans 101.
SBA Loans 201
It starts January 13th and continues every second and fourth Thursday at 10 am CST. This virtual event is for more advanced borrowers, typically over three years in business, ready for their first or second small business loan.
In this event, participants will be able to:
Identify the 7(a) loan programs and regulations and compare them with the 504-loan program.
Understand key differences in the 7(a) loans.
Understand the loan underwriting process for both 7(a) and 504.
Understand what SBA partnered lenders are looking for and how to improve the likelihood of approval.
Register here for SBA Loans 201.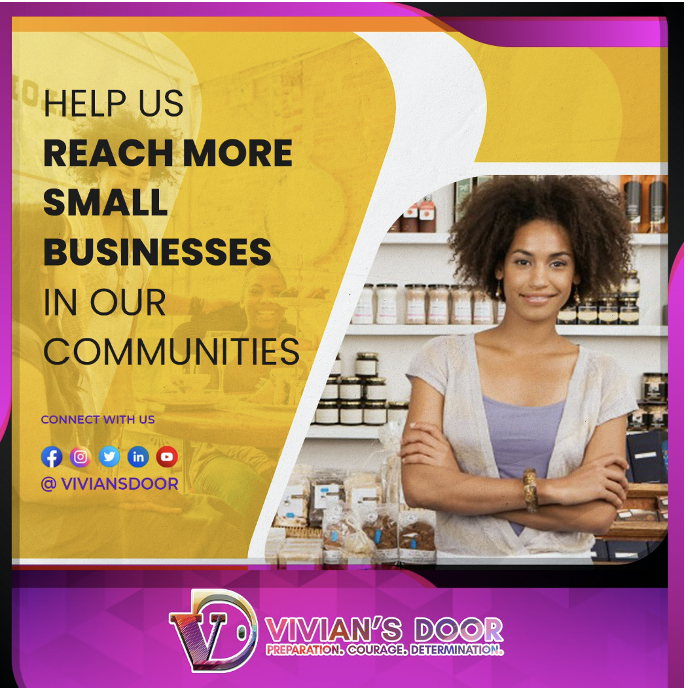 We're counting down to launching the new Vivian's Door website in late January 2022. Our team has been busy creating, designing, and coding our new site to give you a better experience and connection to our platform and community. While we're finishing up the touches, please help us connect the community to more black businesses.
Together we go farther faster.
We wrap up with these words; "Don't just count your days, make your days count." – Colin Powell. And so, from all of us at Vivian's Door, we say Happy New Year!
PS: We'd like to sincerely apologize for not delivering our 30-Day Gratitude Challenge hero highlights on consecutive days throughout November/December 2021 as we have in the past. We were swarmed, pulled from different angles, touched by Omicron, and so much more. We also were working to put the finishing touches on our new website, which will launch in late January 2022. We will pick up where we left off and continue to highlight our remaining 30-Day Gratitude Challenge heroes this week.
Vivian's Door exists to bridge the racial wealth gap in minority/black communities' one business at a time.
Support Vivian's Door Today!
Share the Doorway With Others HERE