Black Music Month Yvonne Matthews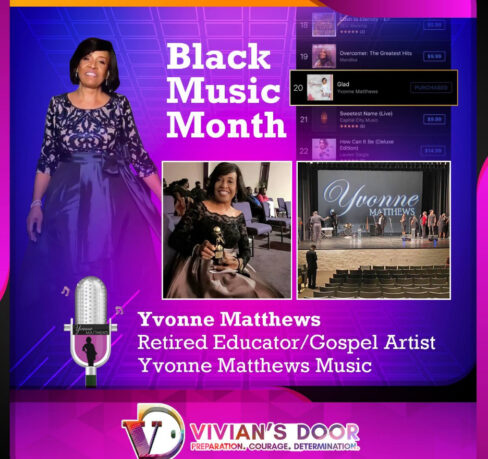 Happy Black Music Month!
We here at Vivian's Door wanted to share the stories of people making waves in the Music Industry!
Yvonne Matthews Yvonne Matthews Music is a retired educator and Gospel Artist who has been singing since the age of 3 with a resounding impact on the lives of her listeners worldwide. At the age of 8, she had her first recording, and since then, her music has carried her to different states across college campuses, parks, theaters, concert halls, churches, and many other countries.
Mrs. Matthews has spent her entire life in and around music. She is the founder of the gospel singing group – Nu Image and has held dozens of positions in different gospel music groups, church choirs, and classical bands.
Music and education collided for her in 1982. Back then, she had always dreamed of becoming a trained classical pianist. She attended The University of South Alabama, where she received a Bachelor of Music degree in Piano. But God had other plans; she received what she considers a call on her life to become an educator. She immediately quit her job and went back to school to obtain her Master of Education degree and got her teaching certification.
Growing up, Yvonne lived in Memphis for a while and got to see many famous musicians, she grew up listening to and loving a lot of music, but Gospel Music and Classical Music are her favorites. Among her most favorite songs; Gospel: Hawkins Family and Richard Smallwood and Classical Music: Rachmaninoff.
Yvonne lives by the creed of excellence; she says, "Whenever I start something, I have to see it through. I don't like half done things". She is motivated by her former students and is someone who always strives to do everything with excellence; "…from the music to the message and the packing, all of what I do, even the publicity…." I strive to be excellent.
She owes a lot of her love for music to her parents, whom she considers her mentors "My mom is a songwriter, and my first song was with my dad; they used to call us; 'Deacon Reed and Little Yvonne,' my dad was my first piano teacher." She's also learned a lot from Yolanda Reddick – her high school choir teacher and Jamie Stewart, her piano teacher; all these people inspired her to major in music in college.
Yvonne owns and runs Yvonne Matthews Music and Matthews Educational Consulting, LLC. Through these two outfits, she keeps in touch with these essential parts of her life; music and education. She also started Youth on the Winning Side Program, a youth music initiative she founded aimed at helping kids learn to sing, play different instruments, and network with others. Youth on Winning Side is a great program that has been around for 30 years. The impact has been immense; it has changed the lives of numerous children.
Just before COVID – 19 hit, she'd completed a successful 3-week tour of Italy and Switzerland as she debuted her inaugural solo CD performing as one of the Voices of Sonya Williams & the Voices. This solo project, GLAD, features music written by many of her former students and music colleagues.
On Super Bowl Sunday 2020, Yvonne had her album release at Davidson High School with over 600 people in attendance. The digital release of her song on February 8 saw it shot up to number 20 in the country for downloads of Christian Music on iTunes, and ever since then, it has been a whirlwind. The video release of Glad in June also got 1 million views. Her second video, released at the end of July, 'I Owe You Me,' got 630,000 views.
For the younger ones, she says, "If music and arts are what you want to do, go for it! You are gifted for a certain thing. And a lot of times, if you don't pursue the things you are passionate about, you won't be happy or joyful. Don't put all your eggs in one basket. You need to have more than one thing going. Have three streams of income."
Also, she wants everyone to; "Dream Hard, Dream Big, Be Strategic, write out your plan. You can't be the jack of all trades, but you can be the jack of all three!"
Be Sure to Follow and Support Yvonne Matthews Music
Follow Vivian's Door for more inspiring stories