Black Music Month Dre Day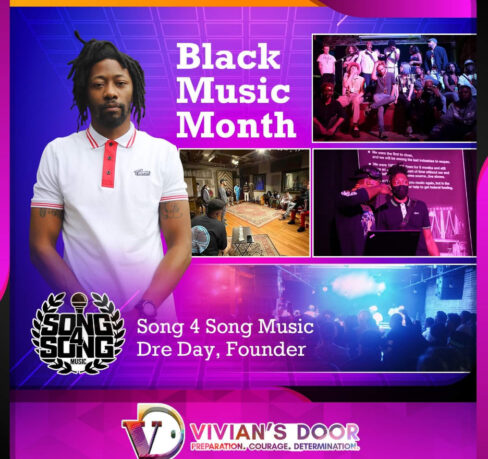 We here at Vivian's Door wanted to share the stories of people making waves in the Music Industry!
D'Andre "Dre" Day is leading a musical revolution in Mobile, Alabama. The talent consultant/management founded his signature entertainment business called; "Song 4 Song" in 2019.
For D'Andre, music comes; naturally, he has such an intense love for music, in his own words; "I just can't get away from it." Every day, this motivates him to keep going – doing the sometimes-hard stuff to encourage young, upcoming talented artists.
Dre fondly remembers while growing up listening to music by; UGK, Dungeon Family No Limit/Master P, "He was a great artist but also a great businessman. He had rock-solid focus like no other in the industry, and there seems to be No Limit to him!"
D'Andre created Song 4 Song because he saw, heard, and felt the cry for help from local artists in the city. He sensed the need for more expression of their musical potentials. And he thought to himself, "I could figure out a way to do more." He sincerely wanted to give local artists much-needed exposure. "I wanted to help them develop their minds on what it means to be an entertainer, including the business aspect of the industry."
His company hosts an annual musical competition; 'the Song 4 Song Competition in Mobile, Alabama.' They hosted the first competition on March 25, 2019. The musical competition involves 15 local artists who compete for an overall prize, including studio time, Song 4 Song Trophy, cash prizes, photoshoots, and a chance to open for a major artist.
Each artist must take out time to prep and prepare for the competition. There are five judging areas for the 15 contestants, including performance, quality of music, Crowd Participation.
Last year when Covid-19 hit, things got slowed down. But it didn't stop this music maestro who says, "although Covid-19 slowed us down, we kept the show going."
"Dre" draws motivation from his oldest cousin, who he says has significantly influenced his life. Dre is very family-oriented and enjoys spending time with family members when he's not working in the music business.
D'Andre says, "my family keeps me motivated." Especially when things get complicated, sometimes he felt like giving up after trying many different channels in the music industry and failing; "I kept on going, and now I have found my home – I have found where I'm supposed to be. Knowing this is where I'm supposed to be, helps me not give up." Secondly, seeing how Song 4 Song Music has changed people's lives, hearts and minds, I know what I'm doing for the community matters.
To young upcoming artists, "Dre" says, "Learn as much as you can about the industry and never forget it's a business at the end of the day. It's a business; you can never stress that enough."
For the future, Dre hopes to keep going strong with his Song 4 Song platform, and through it, to grow the community bringing more focus on local talent at the start of their careers. "I want everyone to come out and support local artists from all genres of music."
Be Sure to Follow Song4Song Music on Facebook and Instagram.
Be Sure to Follow Vivian's Door for more inspiring stories.